Apple's Touch Bar MacBook Pro available for in-store pickup, stock limited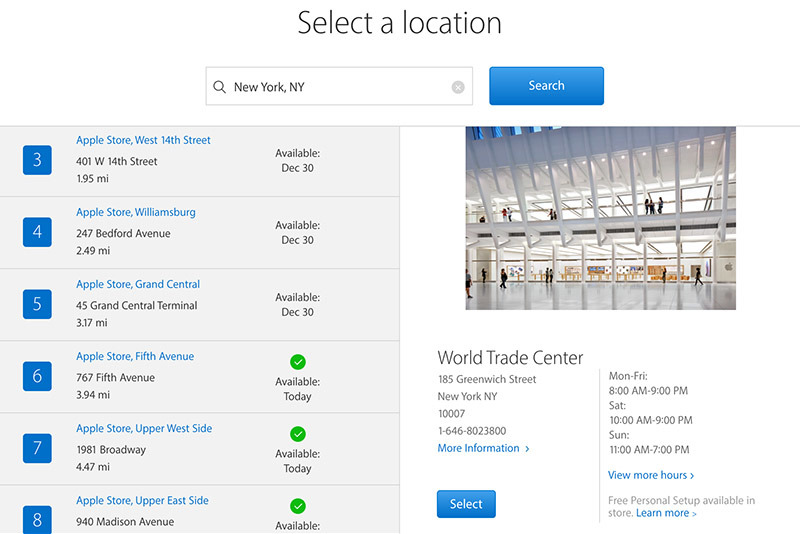 Apple on Thursday activated in-store pickup as an online order option for new MacBook with Touch Bar models, though initial stock checks show extremely limited availability nationwide.
According to Apple's website, a limited number of brick-and-mortar retail outlets have both 13- and 15-inch MacBook Pro with Touch Bar units ready for pickup today. Availability is anything but consistent, however, as many stores are estimated to have stock on hand on Dec. 30.
As can be expected, Apple outlets in major metropolitan areas like New York and California are receiving units first. At the time of this writing, entry-level 13-inch Touch Bar MacBook stock appears to be most prevalent as smaller regional locations and mall outlets are showing immediate availability. Stock on hand diminishes up the product line, though flagship stores currently have top-tier configurations up for sale.
Stock is still constrained for the 15-inch Touch Bar variant, and even more so for top of the line models sporting Intel's 2.7GHz quad-core Core i7 processor.
Some stores, like Apple's Fifth Avenue flagship, have all Touch Bar MacBook models in stock and ready to pick up today. Those interested in bypassing current shipment estimates of four to five weeks are urged to check pickup availability on Apple's MacBook Pro purchase webpage.
Announced in October, Apple's new Touch Bar MacBook Pros arrived in the hands of early preorder customers on Monday, with Apple retail stores receiving display models a day later.
For the latest deals on Apple's Late 2016 MacBook Pros, please visit AppleInsider's Mac Price Guide.