Apple grabs record 91% share of global smartphone profits in Q3, analyst says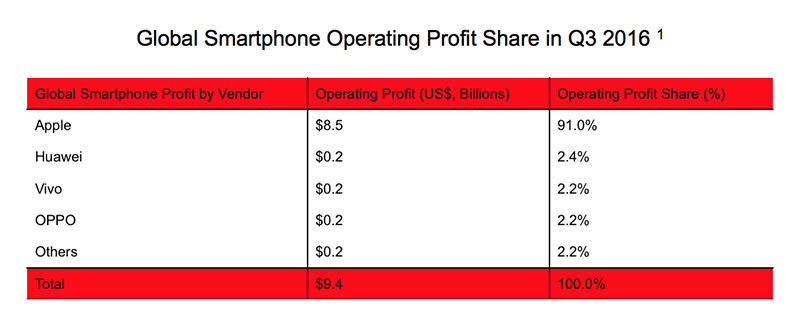 AppleInsider is supported by its audience and may earn commission as an Amazon Associate and affiliate partner on qualifying purchases. These affiliate partnerships do not influence our editorial content.
According to the latest estimates from market research firm Strategy Analytics, Apple iPhone sales gobbled up 91 percent of worldwide smartphone profits during the third quarter of 2016, setting a new record.
In a research note obtained by AppleInsider on Tuesday, Strategy Analytics pegged Apple as the world's most profitable smartphone maker, with an operating profit of $8.5 billion for the quarter ending September. By contrast, the entire industry realized operating profits of $9.4 billion during the same period.
"Apple dominated and captured a record 91 percent share of all smartphone profits worldwide. Apple's ability to maximize pricing and minimize production cost is hugely impressive and the iPhone continues to generate monster profits," said Linda Sui, director at Strategy Analytics. "Huawei, Vivo and OPPO are the next three most profitable smartphone vendors globally this quarter, but they are still a long way behind Apple."
Apple's performance is made all the more impressive in comparison with the quarter's remaining top-four vendors, all of which notched operating profits hovering at around $200 million. Second place Huawei, for example, generated 2.2 percent of smartphone operating profit worldwide, while Vivo and OPPO both accounted for a 2.2 percent share.
As noted by Sui, three of the top four most profitable smartphone vendors are now based in China. The firm saw increased performance from Huawei, Vivo and OPPO thanks to strengthened product lineups and a lean supply chain strategies.
In October, Apple announced a Wall Street beat for its fourth fiscal quarter of 2016, earning $46.9 billion in revenue on the back of 45.5 million iPhone sales. Though revenues were down year over year, iPhone shipments were better than expected with handset ASP edging up above $600 thanks in part to iPhone 7 and 7 Plus.
During the most recent quarter, Apple saw iPhone sales increase in 33 of its top 40 markets, and noted record churn from Android switchers. However, much of those gains were offset by a 30 percent year over year dip in Chinese iPhone sales.
Today's research note is a bit more conservative than a similar report issued by BMO Capital Markets earlier this month. According to BMO analyst Tim Long, Apple's share of handset industry operating profits hit 103.6 percent as a result of losses posted by other major vendors over the same period.