Google turns Drive for iOS into Android migration tool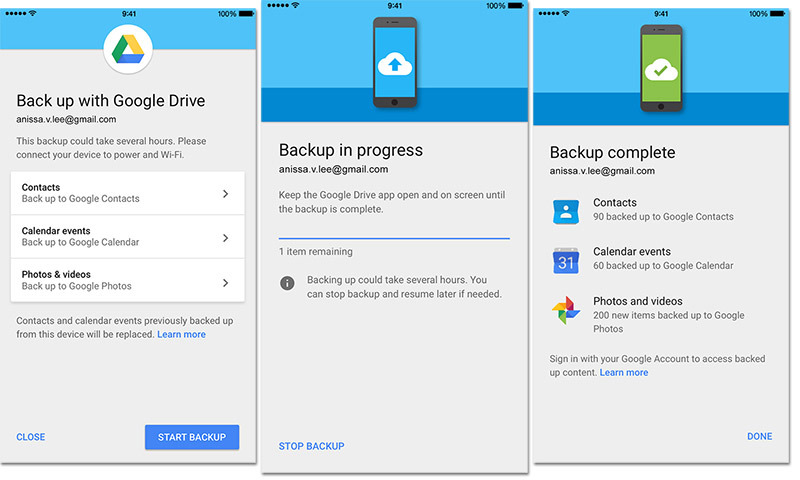 Google on Tuesday activated a new Google Drive feature that turns the cloud storage app for iOS into a migration tool capable of transferring calendars, contacts and photos from an iPhone or iPad to a new Android device.
Outlined on a page dedicated to assist iOS device owners switching over to Android, the new Google Drive functionality streamlines the often times laborious device setup process. Specifically, Drive backs up crucial iOS data like contacts and calendar events to Google cloud services, then pushes the information down to corresponding Android apps on a new phone.
The process takes only three steps, Google says. First, users need to install Google Drive on their iOS device, or ensure they are running the most current version of the software. A Google account is required to sign in to Drive, which subsequently provisions up to 15GB of free cloud space on Google's servers.
Next, users navigate to Menu > Settings > Backup and select which data sets to back up. Contacts are assigned to Google Contacts, Calendar events go to Google Calendar, and photos and video are uploaded to Google Photos. Depending on the amount of data (read photos), a backup might take a few hours to upload, and the process requires the iOS device to remain on with Drive running.
Once the Google Drive backup is complete, users who sign in to their Google account on a new Android device will see their data downloaded to the respective Android app automatically. Google reminds iOS deserters to switch iMessage off before completing the transition. In the past, customers who failed to disassociate iMessage from their mobile phone number experienced issues with undelivered SMS messages after switching to Android.
Apple introduced a similar, albeit more elegant, all-in-one migration tool called Move to iOS in 2015 to automate the transfer of user contacts, calendars, photos, videos, browser bookmarks, email accounts and SMS history from Android to iOS.