Older Macs can use LG UltraFine 5K Display at lower resolutions with adapter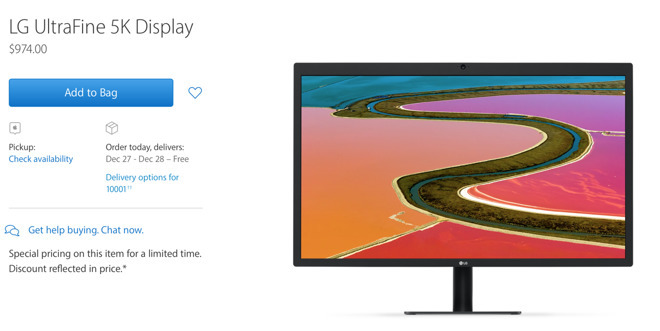 AppleInsider is supported by its audience and may earn commission as an Amazon Associate and affiliate partner on qualifying purchases. These affiliate partnerships do not influence our editorial content.
In support documents for the forthcoming LG UltraFine 5K Display published Tuesday, Apple notes older Mac models, including 2013's Mac Pro, can be used at 4K and lower resolutions when connected via a Thunderbolt 3 to Thunderbolt 2 adapter.
As noted in Apple's Support Pages document, LG's new display can only hit 5K resolutions with Thunderbolt 3-equipped computers running macOS Sierra 10.12.1 or later. For now, the requirement means Apple hardware compatibility stops at the recently released MacBook Pro models.
Owners of earlier Mac models who want access to the expansive screen real estate provided by LG's 27-inch monitor will have to settle for lower resolutions, specifically 3,840-by-2,160 pixels at 60Hz. Adding insult to injury, customers with older Macs also have to buy a $30 Thunderbolt 3 to Thunderbolt 2 adapter and a Thunderbolt cable of their choosing.
Macs that require Apple's Thunderbolt adapter solution include:
Mac Pro (Late 2013)
MacBook Pro (Retina, 15-inch, Mid 2014) and later
MacBook Pro (Retina, 13-inch, Early 2014) and later
iMac (Retina, 27-inch, Late 2014) and later
iMac (Retina, 21.5-inch, Late 2015)
iMac (21.5-inch, Late 2015)
MacBook Air (13-inch, Early 2015)
MacBook Air (11-inch, Early 2015)
Separately, owners of Apple's Late-2014 Mac mini can drive the 5K LG display at 3,200-by-1,800 pixels at 60Hz using the same setup.
The low-resolution display option appears to be built into macOS, as Apple notes the monitor might not function until macOS is booted when connected to a Mac Pro or Mac mini. In such cases pre-boot features like Boot Picker and Recovery may not show up on the display, rendering those services useless. As such, the company recommends Mac Pro and Mac mini owners relegate the LG UltraFine 5K to secondary monitor tasks.
Announced in October, LG's UltraFine 5K Display was developed in partnership with Apple to accompany the new MacBook Pro with Touch Bar models. The monitor went up for order through Apple's online store for a brief period in November before being pulled. With initial availability slated for December, it was just today that Apple began accepting orders in earnest, with the first units due to arrive on Dec. 27 or 28.