Cost of Chicago Apple store revised down to $27M from $62M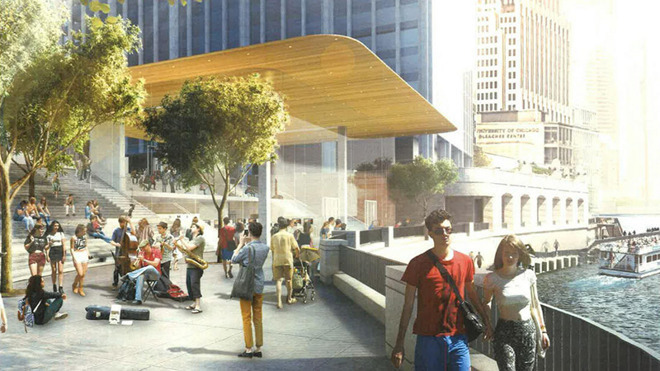 Construction of Apple's new Chicago flagship retail store is well underway, and according to a report on Wednesday the final build cost is now expected to hit $27 million, down from an initial estimate of $62 million in October.
Once described as a "glass temple," the forthcoming outlet is quickly rising on Chicago River's north bank, anchoring one end of the North Michigan Avenue shopping district. Plans and architectural renderings filed by the property's owner, Zeller Realty Group, in 2015 detail a 20,000-square-foot glass, steel and wood structure that will one day soon serve the Windy City's Apple needs.
Apple and its partners initially estimated the build cost to come in at a massive $62 million, nearly three times the price of the company's Union Square store in San Francisco, according to construction permits filed with Chicago's Department of Planning and Development in October. However, documents filed just a few weeks later, and uncovered by the Chicago Tribune today, show a revision down to $26.9 million. The cost is more in line with other international Apple flagship locations.
When it opens next October, Apple's new Chicago store will feature a glass-walled foyer positioned at street level. Two support pillars running the height of the structure flank two grand staircases and an elevator, each of which leads down to a salesroom with even larger glass panels fronting the riverwalk. A flat carbon fiber roof spans the terraced architecture to create a wide open internal space.
Though not yet confirmed, longtime Apple collaborator Norman Foster of Foster + Partners is thought to be behind the store's design. The award-winning architect had a hand in a number of international flagships and was selected by late Apple cofounder Steve Jobs to take the lead on the company's iconic Campus 2 headquarters in Cupertino.
A separate report from the Tribune, also published today, says Apple's Chicago riverside retail shrine is expected to revitalize the area's shopping corridor by drawing in more foot traffic. In particular, the store could shift rent dynamics from traditionally high-value properties on the north end of Michigan Avenue to the south.
"There's a very big expectation that Apple will be a major driver of traffic and in turn, retail will want to surround it," said David Stone, president of Stone Real Estate Corp. "The question is when and if (those expectations) will be realized."