Apple's iOS 10 now on 3 out of 4 compatible devices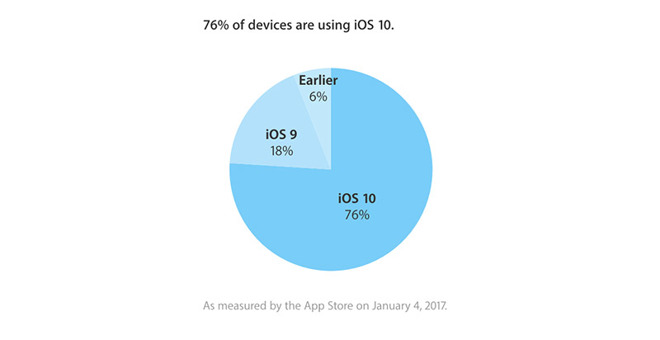 AppleInsider may earn an affiliate commission on purchases made through links on our site.
In newly released iOS 10 adoption statistics, Apple on Thursday revealed 76 percent of compatible devices are now running the current generation operating system, a massive uptick since iPhone 7 launched in September.
According to Apple's latest numbers, published to the company's developer web portal, 76 percent of compatible iOS devices were running a version of iOS 10 as of Wednesday.
The numbers are up significantly from Apple's last reading on Nov. 27, which showed the OS installed on only 63 percent of active devices. A month prior, data from research firm Mixpanel found iOS 10 adoption surpass the halfway mark in late September when the OS was tracking at 55 percent.
While Apple does not offer day-by-day statistics, it can be assumed that the holidays brought a raft of new users and late upgraders.
Despite a sizable leap from November, iOS 10 distribution is just one percent higher than iOS 9 metrics measured at roughly the same time last year. At the time, the last-generation OS was gaining new converts at a rate of about one percent per week.
Apple's resource notes 18 percent of devices visiting the App Store are still running iOS 9, while another 6 percent are on older versions of the OS.
Apple released iOS 10 in September with design enhancements and feature additions to Messages, Maps, Siri, Photos, Apple Music, News, and more. The company most recently issued iOS 10.2 with the new TV app and refreshed emoji characters.