Mac sales stabilize in Q4 amid worldwide PC shipment decline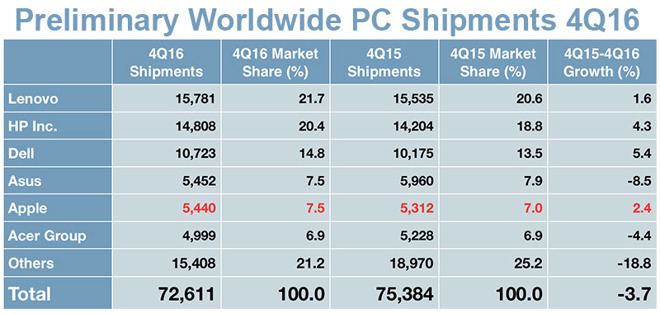 AppleInsider may earn an affiliate commission on purchases made through links on our site.
After a steep slide last quarter, Apple's Mac saw a 2.4 percent sales increase over the three-month period ending in December as the wider PC market continued to suffer a now five year drought.
According to the latest estimates from Gartner, Apple shipped 5.4 million Macs to capture 7.5 percent of the worldwide PC market in the fourth calendar quarter of 2016, up 2.4 percent from 5.3 million units shipped and a 7 percent share of the market during the same period a year ago. The company retained its fifth place position among top vendors, correcting for a 13.4 percent year over year decline in the September quarter.
Chinese PC giant Lenovo added to its segment lead with 15.8 million units shipped, up 1.6 percent year over year and good for 21.7 percent of the market. Following close behind was HP, which boosted its stake by 4.3 percent to hit a 20.4 percent marketshare on shipments of 14.8 million PCs.
Dell and Asus ended the quarter in third and fourth place, respectively. Dell shipped an estimated 10.7 million units, up 5.4 percent from the same period last year, while Asus saw an 8.5 percent decline to 5.5 million units.
Acer came in sixth with a 6.9 percent share of the market, down 4.4 percent from the year ago quarter.
Overall, the worldwide PC market contracted another 3.7 percent in the fourth quarter due to weak holiday sales and what Gartner calls a "fundamental change" in PC buying behavior.
"The broad PC market has been static as technology improvements have not been sufficient to drive real market growth. There have been innovative form factors like 2-in-1s and thin and light notebooks, as well as technology improvements, such as longer battery life," said Mikako Kitagawa, principal analyst at Gartner. "This end of the market has grown fast, led by engaged PC users who put high priority on PCs. However, the market driven by PC enthusiasts is not big enough to drive overall market growth."
In the U.S., Apple held on to its fourth place spot with 2.1 million units shipped, up 6.4 percent year over year. The company took 12.8 percent of its domestic market. HP led the U.S. with just under 5 million PC shipments and a 29.9 percent share of the market, an 8 percent rise from 2015. Dell finished the year with 4.2 million units shipped to take 25.2 percent of the domestic market, while Lenovo outperformed Apple with 2.3 million shipments and a 13.8 percent marketshare.
Acer and Asus rounded out the top-six on 662,000 and 621,000 units shipped, respectively.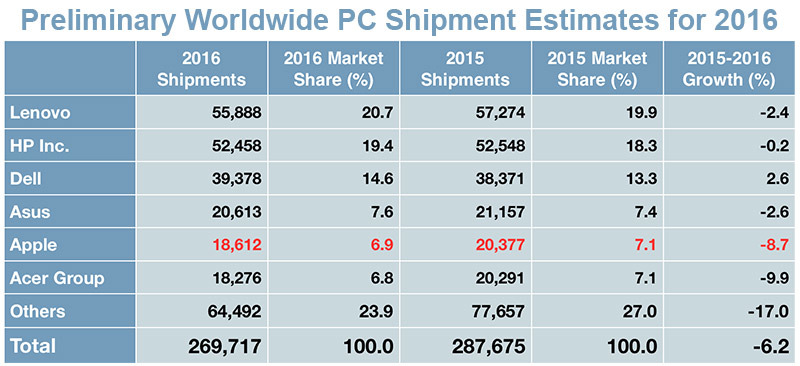 For the year, Apple is estimated to have shipped 18.6 million Macs for a 6.9 percent share of the global market, down from 20.4 million units and a 7.1 percent marketshare in 2015. The 8.7 percent decline was one of the worst performances put in by a top-tier vendor in 2016, second only to Acer's 9.9 percent dip.
Market research firm IDC found similar results, pegging Apple Mac shipments down 0.9 percent for the fourth quarter at 5.3 million units, good for a 7.6 percent share of the worldwide market. IDC puts Apple in fourth place behind Lenovo, HP and Dell, which garnered 22.4, 21.7 and 15.7 percent of the market, respectively. Apple finished just ahead of Asus' 5.2 million shipments and 7.4 percent marketshare.
Apple is expected to reveal official Mac sales numbers in its upcoming quarterly earnings report due on Jan. 31. AppleInsider will be covering the subsequent investors conference call live at 2 p.m. Pacific, 5 p.m. Eastern.