HTC's new U series phones follow Apple's iPhone 7 in eliminating headphone jacks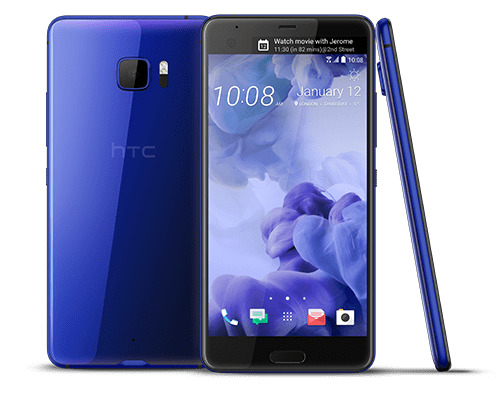 In a surprise announcement, HTC on Thursday revealed two new flagship phones, the U Ultra and U Play — both of which, like Apple's iPhone 7, abandon a headphone jack in favor of digital-only audio.
Instead, sound for the U series is delivered through Bluetooth, the phones' USB-C ports, or the company's signature "BoomSound" speakers. HTC has stripped out a headphone jack on previous phones, namely the Bolt.
The Ultra sports two displays, including a 5.7-inch, 2560-by-1440 primary LCD, and a 2-inch 160-by-1040 secondary screen used to launch apps and contacts, with an option to show reminders and notifications. The Play has just a single, 5.2-inch 1080p screen.
The secondary display on the Ultra will also serve as a conduit for Sense Companion, a digital assistant that supports both voice and touch interactions without the primary screen being active.
The Ultra also has a Snapdragon 821 processor, 4 gigabytes of RAM, and 64 gigabytes of built-in storage, with expansion possible via MicroSD. Its home button includes an integrated fingerprint sensor, and on the rear is a 12-megapixel camera with optical image stabilization and HTC's UltraPixel technology, which enables better low-light shooting. The front camera uses more conventional technology, but with a 16-megapixel sensor.
Both cameras on the Play are standard 16-megapixel cameras with f/2.0 apertures, neither offering optical stabilization. While using a slower MediaTek Helio P10 processor, the phone will have MicroSD and options for 32 or 64 gigabytes of built-in storage, and 3 or 4 gigabytes of RAM.
HTC is now accepting preorders for the Ultra, which should ship in mid-March for $749 — in the U.S., unlocked models will only be compatible with AT&T and T-Mobile. The Play should ship sometime in early 2017 at a price yet to be announced.