Apple CEO Tim Cook receives $3.6M from small sale of 30,000 shares, weeks after $1.5M pay cut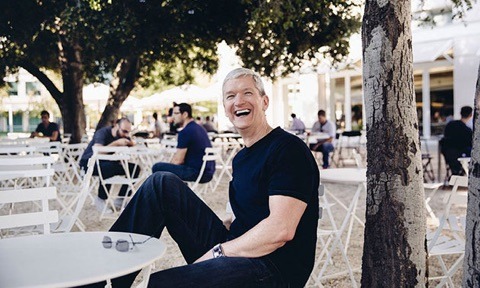 A small cache of 30,000 Apple shares were sold by Apple Chief Executive Tim Cook this week as part of a scheduled trading plan, with Cook receiving a total of $3.6 million from the company stock sale.
A filing with the U.S. Securities and Exchanges Commission reveals Cook made three transactions on subsequent days, From January 17 to January 19. On each day, 10,000 common stock shares were sold, with an individual share price of $120 on the form making each transaction worth $1.2 million.
After the three transactions, Cook still owns 1,009,809 shares, currently worth in excess of $121 million.
The small scale offloading of shares comes shortly after executives received a pay cut for missing performance targets, with Cook losing $1.5 million of his bonus pay. Even with the pay cut, Cook still received $8.7 million in total compensation for the year, though this still is lower than payments Cook received in 2014.
While Cook's shares were sold as part of a predefined trading plan, it is unclear if the sale is in response to the pay cut.
In August last year, Cook received a total of 1.26 million restricted stock units (RSUs) - 980,000 time-based and 280,000 performance-based RSUs, vesting after five years in the role as CEO. Shortly after vesting, Cook sold off around a third of his share stockpile, at the time leaving him with 1,309,692 shares in his trust.
Cook is due to receive a number of other stock rewards in the future, including 700,000 RSUs due to vest on August 24, 2021, and five annual installments of performance-based RSU awards that will run until 2021.