Some users finding AirPods drop phone call audio when paired with iPhone 6s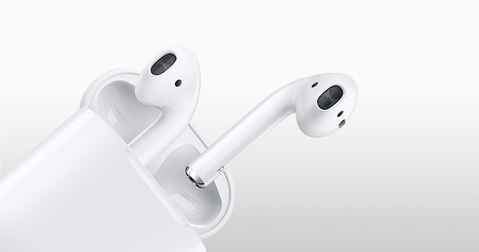 Apple is looking into claims by a number of AirPods owners that the audio accessories have connectivity issues, with the Bluetooth connection temporarily dropping during phone calls, yet not during music playback.
A thread in Apple's Support Communities lists customers who have witnessed the problem, to varying degrees. Some users found the AirPods will drop calls on a frequent basis, ranging from once an hour to every minute, but in the majority of cases, podcast or music played through AirPods works fine with only occasional drops.
The problem also appears largely limited to the iPhone 6s and the iPhone 6s Plus, with some also reporting it occurring on the iPhone 7 and iPhone 7 Plus. On the other hand, some users on the support forums note that connectivity issues cleared up when they upgraded to an iPhone 7-family device.
A few of the forum posts indicated an Apple Watch was connected to the iPhone when the AirPods, suggesting that may be making the situation worse, but others indicate the problem still occurs when an Apple Watch isn't present.
AppleInsider attempted to recreate the issue using AirPods and an iPhone 6s Plus, both with and without an Apple Watch, but failed to get similar results — but with only one set of AirPods and one iPhone 6s Plus available, this is not a conclusive result. When an assortment of other Bluetooth headphones and speakers were tested with the same iPhone 6s Plus, dropped calls sporadically took place suggesting a possible issue not specifically related to the AirPods.
Some support forum users have reported speaking to Apple Engineering over the issue, replicating the problem for staff, and supplying device logs for further investigation.
MacRumors noted on Monday that Apple was investigating connectivity problems, but it is not clear if Apple is doing anything more to determine if there is a larger problem with the device, than it normally undertakes on a day-to-day basis.
"We always examine service trends to see if there's specific incompatibilities with our products, and we are aware of the complaints from a small proportion of iPhone 6+ owners," a representative from Apple told us. "At this time there's nothing to report."
Bluetooth connectivity with audio devices has been a sporadic issue for iOS in the past, with changes to the Bluetooth protocol in a previous iOS update in December 2015 causing problems with some in-car audio systems and hearing aids. In many cases, device owners were able to get firmware updates from the manufacturers that updated the onboard Bluetooth software to bring it in line with current protocols. Other issues were resolved with the iOS 10 update.
Connectivity issues were reportedly behind the delays in the AirPods release, with problems keeping audio synchronized between the left and right parts causing a disorienting experience.
For Apple's own hardware, the company has created the W1 chip to improve Bluetooth connectivity. The AirPods and more recent Beats wireless headphones use the chip for a simplified pairing process and an improved audio performance, as well as extending the usable range between the accessories and the music source.