Notes of interest from Apple's Q1 2017 conference call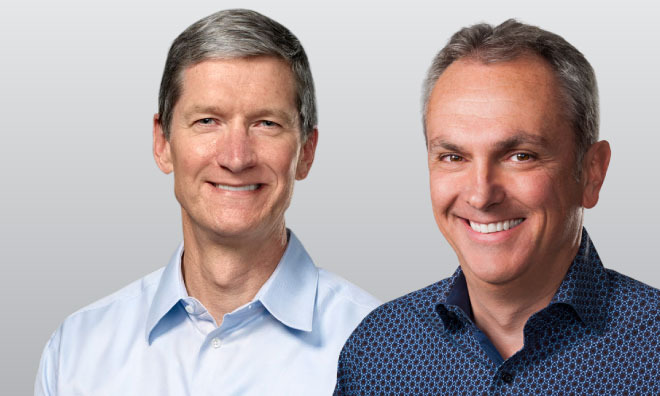 AppleInsider may earn an affiliate commission on purchases made through links on our site.
Apple returned to growth and exceeded Wall Street expectations on Tuesday, when it reported record revenue, profits and iPhone sales for the first quarter of fiscal 2017. Following the news, the company held a conference call with media and analysts, and notes of interest follow.
Participating in Tuesday's call were Apple Chief Executive Tim Cook and Chief Financial Officer Luca Maestri.
Highlights
Apple's iPhone, Services, Mac and Watch businesses all set new all-time revenue records
In a rare personal note, Cook detailed the ways he uses HomeKit in his own home to control lights, locks, his fireplace, and even make coffee
The iPhone 7 Plus was a particularly strong performer, taking a greater share than previous "Plus" handsets
Apple plans to double the size of its booming Services business over the next four years
On acquisitions, Cook said: "There's not a size that we would not do, based on just the size of it."
Apple's iPhone business
Apple saw "especially higher demand" for the iPhone 7 Plus.
Demand for it exceeded supply throughout the quarter.
Apple's Services business
Apple's best quarter ever, with almost $7.2 billion in revenue.
The App Store saw $3 billion in purchases in December alone — Â its best month ever.
Over 2.2 million apps are available on the App Store.
Apple's developer community has earned over $60 billion, including over $20 billion in 2016 alone.
Music business grew for third quarter in a row, and AppleCare and storage services set all-time records.
Apple Pay users have tripled over the last year, and hundreds of millions of transactions occurred in the December quarter alone.
Transaction volume was up over 500% year over year as Apple expanded to four new countries. It's now available in 13 markets.
Apple plans to double the size of its Services business in the next four years.
Apple's Mac business
The majority of Mac buyers last quarter were new to the platform, coming from Windows PC.
Apple Watch and AirPods
The Apple Watch had a "strong full first year," and posted its best revenue ever last quarter.
Cook also included AirPods as part of Apple's lineup of wearable products, noting that the company is working to meet up with incredible demand for the wireless headphones.
Apple's HomeKit business
Cook said he uses HomeKit in his own home, saying "Good morning" to turn on lights and make coffee. He's also automated his fireplace, lights, locks and more.
"This level of home automation was unimaginable just a few years ago, and it's here today with iOS and HomeKit," Cook said.
Apple's iPad business
iPad sales once again fell, to 13.1 million, though Apple continues to tout customer satisfaction rates and purchase intents.
Of note, Apple mentioned customer satisfaction with the iPad mini, a product that has not been updated in over a year.