Nintendo's 'Fire Emblem: Heroes' grosses $2.9M in first-day sales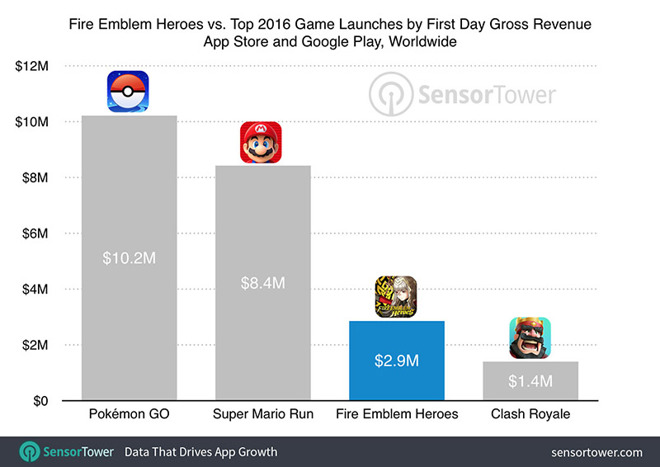 Japanese gaming giant Nintendo's second mobile effort, Fire Emblem Heroes, raked in $2.9 million in worldwide gross revenue after just 24 hours on sale, according to statistics released on Friday.
According to the firm's Store Intelligence data, combined worldwide downloads have surpassed the 2 million mark, bringing in estimated $2.9 million in its first day of availability. The estimate is substantially lower than first-day performances put in by Nintendo's blockbuster Super Mario Run, which grossed $8.4 million when it launched as an iOS exclusive in December, and the $10.2 million generated by Pokémon Go last July.
That said, the comparison with Super Mario Run is a bit misleading as Nintendo requires a $9.99 in-app purchase to unlock the full game, while Fire Emblem uses in-app purchases for in-game assets like battle orbs.
Fire Emblem earned about 2 million downloads on day one, on par with Supercell's popular Clash Royale and slightly less than half of Pokémon Go's 4.2 million downloads. Thanks to months of hype from both Nintendo and Apple, Super Mario Run clocked 6 million downloads in its first day of sales.
The report notes Japanese customers account for an overwhelming majority of Fire Emblem downloads, with the U.S. coming in a distant second. As of this writing, the new game sits in the No. 2 spot on the App Store's free app chart, and is already the online market's 17th highest grossing app.
Whether Fire Emblem has the staying power of its predecessor has yet to be seen. Earlier this week, Nintendo said Super Mario Run has been downloaded more than 78 million times since its launch, earning the company over $53 million.