Apple cedes ground in growing Chinese smartphone market as consumers await redesigned 'iPhone 8'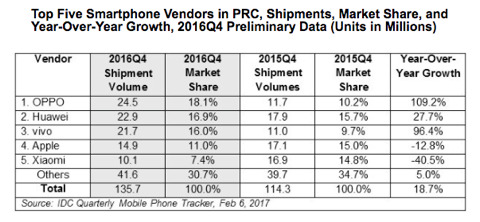 The iPhone is being overtaken in China by a raft of new locally-produced smartphone rivals, according to a new report, which shows Apple's market share dropping despite greatly increased smartphone shipments in the region.
In the fourth quarter of 2016, the Chinese smartphone market grew 18.7 percent year-on-year to 135.7 million, figures from analytics firm IDC suggest. For the full year, shipments in 2016 were up 8.7 percent to 467.3 million units, compared to 429.9 million for 2015.
It is claimed iPhone shipments in the quarter reached 14.9 million units, but in Q4 2015 the shipment volume was 17.1 million, representing a year-on-year decline of 12.8 percent. Apple's iPhone shipments to China have also reduced on a yearly basis, down from 58.4 million in 2015 to 44.9 million in 2016, a contraction of 23.2 percent.
The increased growth of the market in China means Apple's market share has also contracted, from 15 percent in Q4 2015 to 11 percent the next year. On an annual basis, Apple's moved from a market share of 13.6 percent in 2015 to 9.6 percent last year.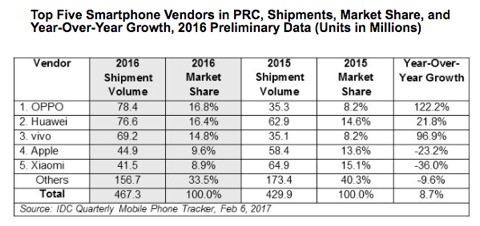 By comparison, local producers Oppo, Huawei, and Vivo have enjoyed increased sales in the region, with Oppo in particular enjoying quarterly year-on-year growth of 109.2 percent and annual growth of 122.2 percent.
IDC notes this marks the first time Apple saw a year-on-year decline in the Chinese smartphone market, and that while new black iPhone options received some attention in the country, the iPhone refresh "did not create as much of a frenzy compared to the past."
Despite the reduction in sales, IDC suggests the reduced market share is not down to Chinese producers becoming more successful in the region. It is believed most iPhone users are holding out for this year's iPhone, with the 10-year anniversary iPhone also expected to attract more users of high-end Android devices.
In Apple's latest financial results, revenues from Greater China decreased 12 percent year-on-year, but still brought in $16.2 billion. Apple CEO Tim Cook advised during the conference call that the weak exchange rate affected revenue, that mainland china sales were actually up by six points, and that the revenue is being compared with the all-time record of $18.4 billion set in 2016.
Also during the call, it was noted the iPhone install base grew in "strong double digits," seemingly against IDC's reported figures.