Apple CEO Tim Cook meets with fashion designer Julien Fournie, VizEat co-founders in France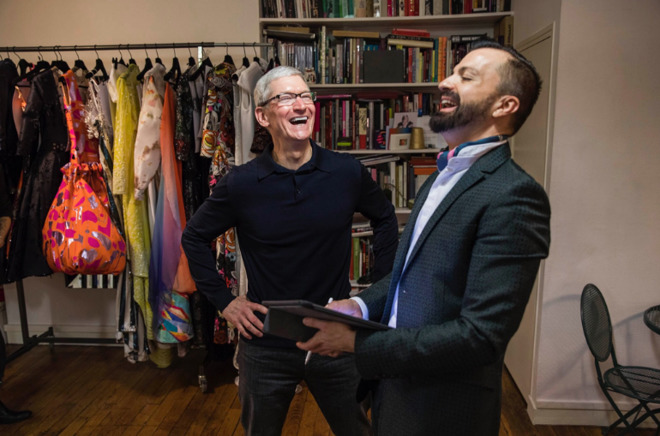 AppleInsider may earn an affiliate commission on purchases made through links on our site.
Following his visits to two French Apple stores over the weekend, Apple CEO Tim Cook on Monday met with several local business owners, including fashion designer Julien Fournié.
Fournié's latest collection was created with the help of the iPad Pro, Cook said in a Twitter post. Accompanying photos show the pair looking at a 12.9-inch Pro equipped with a case and an Apple Pencil.
In a separate post, Cook mentioned a lunch with the co-founders of VizEat, a business that hooks travellers into food tours, cooking classes, or attending dinner parties hosted at local homes. The CEO appears to have gone with the third option.
The broader purpose of Cook's visit to France is unknown, as is how long he intends to remain in the country. His visits to Apple stores in Paris and Marseilles were a surprise even to shop staff.
Cook will periodically tour other countries, but often includes business deals or meetings with government officials in the process. On Wednesday Cook is scheduled to receive an honorary doctorate from the University of Glasgow in Scotland.