Apple investigating manual winding Apple Watch, iPhone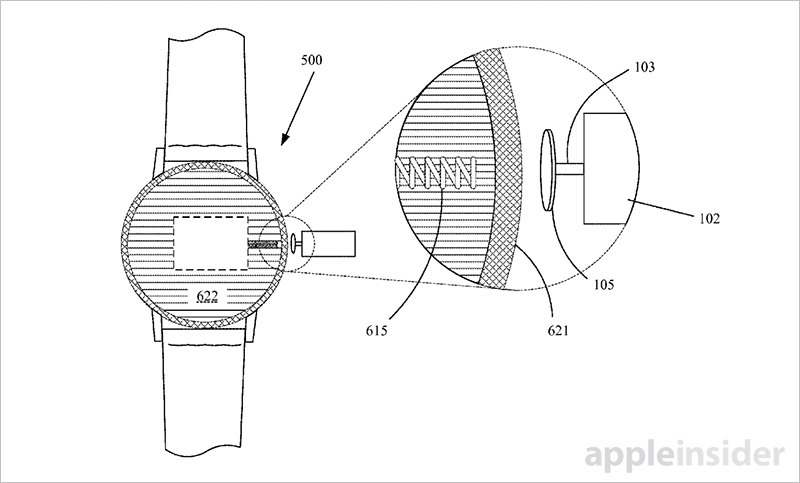 According to an Apple patent application published on Thursday, the company is investigating device charging mechanisms capable of generating electricity through winding, as well as wearables powered by constant spring tension, like a traditional wristwatch.
As published by the U.S. Patent and Trademark Office, Apple's filing for a "Connector-free magnetic charger/winder" discusses a potential device charging system that applies a rotational magnetic field to move an electric generator in a portable device. The resulting charge can be stored in a battery cell or other power reservoir.
Alternatively, the device might use the same magnetic field to wind a spring or coil. Similar to a timepiece, the coil exerts constant rotational force on a series of wheels, or gears, or on the charge generator directly to generate electrical power.
In some embodiments the charging or winding station is configured to spin a master rotor that is magnetically coupled to a slave rotor, the latter of which resides on the portable device. When the master rotor spins, the slave rotor follows.
To achieve the desired magnetic flux effect, both rotors would be made from a magnetic material with polarities oriented to facilitate magnetic flux, while the wearable housing is magnetically neutral. This allows the power generator or spring mechanism to remain completely self-contained within the device.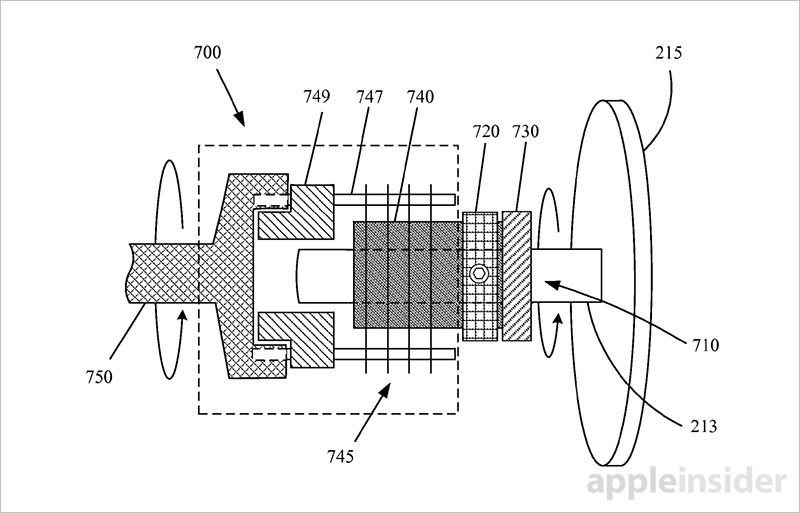 The solution is well suited for use in a smartwatch like Apple Watch, which already features a Digital Crown for user interface navigation. Though it functions by interpreting light signals instead of gear meshing, the component's stem might still be attached to an onboard generator if Apple opted to do so. Such an arrangement would allow for manual charging by the user and the winder described in today's patent application.
As it ships now, however, Apple Watch contains a high-capacity internal battery, the only solution compatible with the device's relatively large screen and sophisticated internal circuitry. Apple Watch Series 2 with its onboard GPS radio is even more power-hungry than the original.
Watches are specifically mentioned in today's application and represented in its accompanying illustrations, but the document also suggests the electrical generation system can be used to juice up portable devices like smartphones and tablets. For these high power applications, the winder would have to vary its angular velocity, moving at one speed for an iPhone and a second, faster speed for iPad.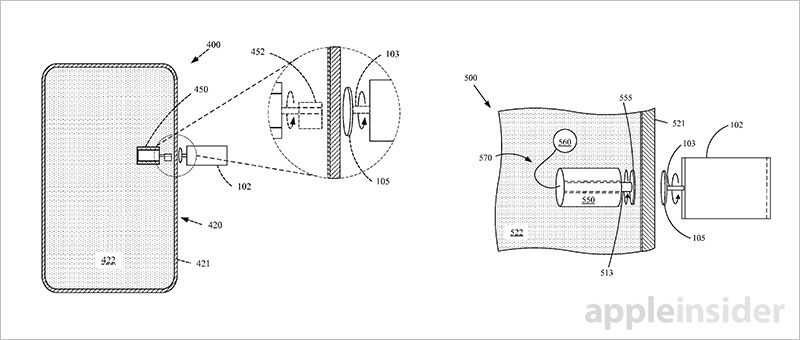 As tantalizing as a wind-up Apple Watch, or iPhone or iPad, might be, it appears Apple shelved the idea for more conventional charging methods. An iPhone with an onboard generator would be a formidable utilitarian device, but for now the company is intent on making its portables thinner and more powerful. Watch integration seems more suitable, but Apple is likely unwilling or unable to do so for the same reasons.
Interestingly, the filing is a continuation of a patent granted in 2014 describing an identical power generation system. Unlike the older IP, however, claims in the document published today concentrate on the coil element that in some embodiments drives the charge generator.
Whether Apple plans to implement the invention in a future device is unknown, but the company is obviously working to refine the technology.
Apple's winding and charging patent application was first filed for in August 2016 and credits John J. Baker and Fletcher R. Rothkopf as its inventors.