The best Warhammer 40,000 games for the iPhone and iPad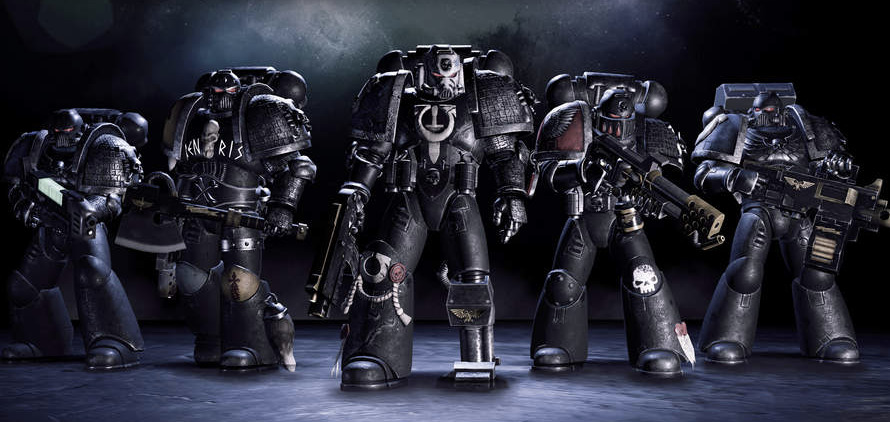 There are dozens of Warhammer 40,000 games available for iOS, but which are the must-plays? AppleInsider examines them, and purges the heretical ones.
Warhammer 40,000 is a storied universe, and has been a fan of tabletop grognards for literally decades. It's easy to amass tens of thousands of dollars in real-world miniatures for the game — making playing in the universe an obvious money-saving choice for iPad and iPhone gamers. Here's how to get started.
Warhammer 40,000: Deathwatch — Tyranid Invasion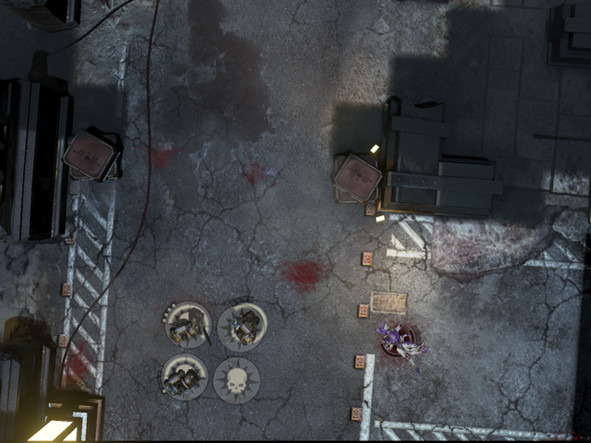 "Warhammer 40,000: Deathwatch - Tyranid Invasion" is a turn based strategy game developed by Rodeo Games that critics have been singing the praises of since it came out. Not only is Tyranid Invasion a visual stunner with great animation and wonderfully designed and textured levels, the gameplay itself is solid.
You have the standard AP-based action system on a square grid rather than a hexagonal one, which will determine the strategy you'll have to employ to beat individual scenarios. Units are capable of ranged and melee attacks, there's a useful feature called "overwatch" that allows you to set units to act if an enemy crosses into their sight path, and the learning curve is welcoming enough for new players, but not so easy that veteran turn-based strategy players will grow bored with it.
Our first title on our "best of" list also includes enough universe lore to be interesting, but not so much to drive away people who simply want a game where they can sit down, play through a couple maps, and be on their way.
If you do well, you'll be rewarded with Overwatch Packs of "cards" that give you bonuses and a way to ease the difficulty of especially tough level. Overwatch Packs are available as an in-app purchase, but it's not required to play or enjoy the game — the only thing the IAP does is serve as instant gratification rather than waiting for what will ultimately happen later down the line.
Overall, if you're looking for a place to start, this is the one we recommend snagging. It's low price and approachable learning curve are a great way to get introduced to the iOS library of Warhammer games.
"Warhammer 40,000: Deathwatch — Tyranid Invasion" is regularly priced at $1.99, requires an iPhone 5, iPad 4, iPad Mini 2, or newer, and occupies 1.68GB of device storage space.
Warhammer 40,000: Freeblade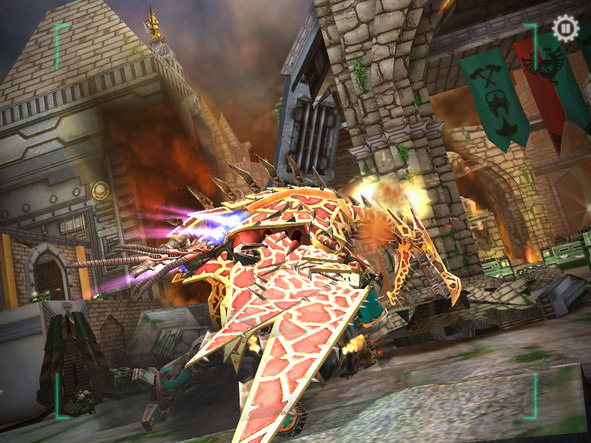 "Warhammer 40,000: Freeblade," developed by Pixel Toys, was highlighted during the reveal of Apple's Metal, so as expected, visually the game is incredible. The models are fantastic, the levels are detailed and visually exciting, and the game feels good.
The objective of the game is to hop inside a giant mech and charge headlong into battle, mowing down seemingly endless enemies with a veritable arsenal of weapons. With 3D touch, the controls are a blast, but the game is completely playable without them as well.
There are almost 200 single player missions and the ability to play against other players as well. If you want a high-action game, this is the exact title you should be downloading this instant.
Because "Warhammer 40,000: Freeblade" is, well, free, this is one of the more abrasive in-app purchase-laden games. Real world money can be exchanged for gold, which can then in-turn be used to repair your mech.
Repairing your mech removes the "wait to play" timer which will tick down on it's own at a much slower pace. Is the game currency purchase required to play the game? No, but the game does suffer heavily from exhaustive time-lock mechanisms that could kill your enthusiasm for playing if you're in it for more than five minutes at a time.
Like we said, "Warhammer 40,000: Freeblade" is free, requires an iPhone 6 or better running iOS 8, and takes 1.32GB of device storage space.
Warhammer 40,000: Armageddon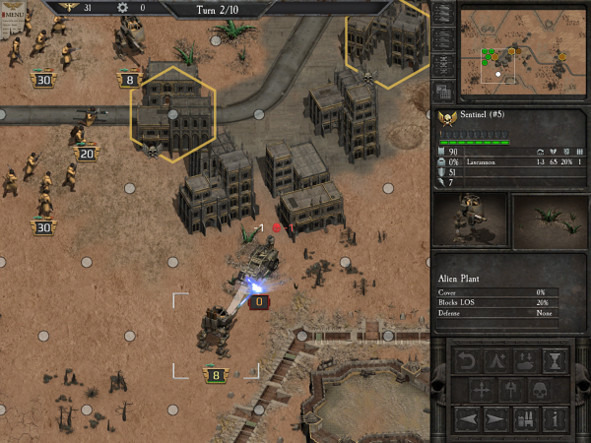 Another turn-based strategy title, "Warhammer 40,000: Armageddon" developed by Slitherine is probably the beefiest of the "Warhammer" iOS games. Visually, it is not graphically impressive, but it certainly makes up for that with the sheer volume of content.
Gameplay is solid, fairly standard turn-based strategy game stuff, requiring players to make cover of line-of-sight mechanics, outsmarting increasingly more difficult AI, and the ability to buy and upgrade your units as you win money from previous scenarios.
There are more than 30 scenarios to play through, and if you somehow manage to get done with the single-player content, there's an in-game editor that allows you to create and share your own levels.
If you're into the lore of "Warhammer 40,000," you're going to like this game. If you're not into the lore, you might be annoyed with the amount of it you run into, as it shows up absolutely everywhere, including mid-battle.
At almost $20, the game is an investment, but the game contains upwards of a hundred hours worth of gameplay without in-app purchase, not something you normally see on a mobile title.
If, for some odd reason, you manage to make it through the included hundred hours of content, additional scenarios can be purchased in-game as one-time only purchases for anywhere between $2 and $6.
"Warhammer 40,000: Armageddon" is a premium title like most of the rest of the Slitherine lineup, selling for $19.99. The game requires an iPad running iOS 7, and takes 1.27GB of device storage space. We recommend an iPad Air or faster.
Warhammer 40,000: Legacy of Dorn - Herald of Oblivion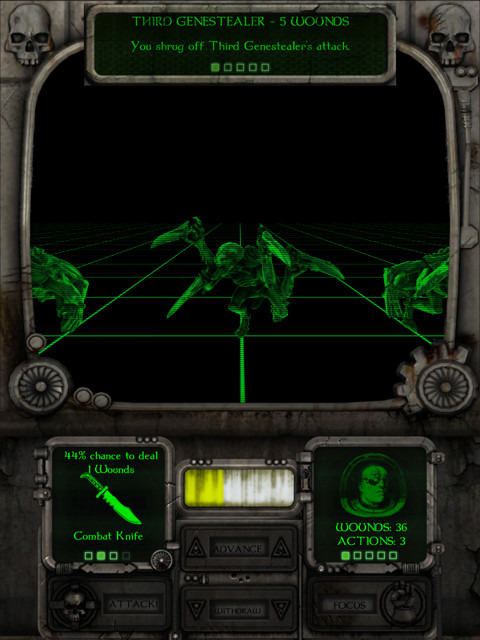 So, maybe you're not into turn based or real time strategy games. Maybe on-rail shooters don't interest you. Maybe you want something entirely different. That's where this mouthful comes in.
"Warhammer 40,000: Legacy of Dorn - Herald of Oblivion" is a game book developed by Tin Man Games, that sits halfway between a text-based RPG and a choose-your-own-adventure novel. No twitching required.
We're not the biggest fans of the game visually, as the game's endless green-on-black text leaves something to be desired, but are big fans of the story itself. Even the combat, which is based on luck and careful character level ups, is entertaining.
"Warhammer 40,000: Legacy of Dorn - Herald of Oblivion" is devoid of in-app purchases, which means that you'll get to buy once and play forever.
If you want something that's not so quite so dire but has a deep story, this is the one for you.
"Warhammer 40,000: Legacy of Dorn - Herald of Oblivion" retails for $5.99, occupies a paltry 238MB on the device, and runs on anything capable of running iOS 6 or newer.