Apple Inc. valuation now more than $134 billion greater than Alphabet's Google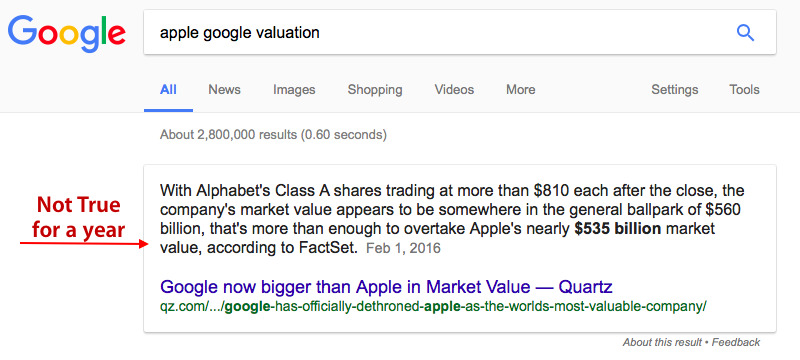 Shares of Apple are collectively worth $713.96 billion as of today's market close, while the market cap of Alphabet Inc (which includes Google) closed today at $579.15 billion, a difference of $134.81 billion. However, Google's search results still point to year-old stories touting Google briefly surpassing Apple in market cap twice last spring.
If you search Google for "apple google valuation," the search giant's primary "featured snippet" answer is supplied from a year old Quartz blog entry by Melvin Backman, who portrayed the event (last February 1) as the "New Normal," rather than a passing moment of irrationality in the market. Apple passed up again Google within a couple weeks of that being written.
If you click Google's suggested "People Also Ask" question for "Is Google or Apple worth more?" the answer it gives is derived from an article published by CNBC last May, when Google shares again briefly passed Apple's. However, for most of the past year since, Apple's market cap has hovered about $40 billion on top of Google.

Apple valuation up, P/E still very low
This month, Apple's shares jumped significantly following its earnings report from the December quarter, boosted by strong sales of iPhones and Macs, as well as the 18 percent growth of its Services business that's now achieving quarterly revenues of $7.17 billion.
The tech media narrative from last year that decried a shrinking smartphone market and imagined a "boring iPhone 7" helped to suppress Apple's stock price, but that story couldn't withstand the real sales numbers achieved at the release of new iPhones and MacBook Pros, as well as record sales of Apple Watch and Services including App Store sales and Apple Music.
Despite the increase in Apple's share price, the company still trades at a Price/Earnings ratio of 16.36, far lower than Google's 29.32. In other words, the market is still putting a much larger valuation on Google's ability to make money than Apple's, despite the fact that Apple continues to earn more money and successfully launch products that Google continues to fail at.
That's particularly visible in smartphones with the Google Pixel, which did little for Google nor its hardware partner HTC. But Google has also stumbled in wearables, tablets and laptops, indicating an strong inability to take Apple's business away at will, despite many years and trying many different strategies.
The massive over-valution of surveillance based advertising
Google's $26.06 billion in total revenues during the December quarter (and $5.5 billion in quarterly net income) were significantly lower than Apple's $78.35 billion in quarterly revenues (and $17.89 billion in net income).
However, more attention was directed to the idea that Apple earns most of its profits from a single family of products (iPhones) than the fact that virtually all of Google's profits come from surveillance based advertising. That's a market that is not only facing strong competition from players including Facebook, but is also at risk from ad blocking and a general user dissatisfaction with being tracked and sold to advertisers. Facebook's market cap ($389.23 billion) is almost half as large as Apple's despite achieving quarterly revenues that are close to a tenth of Apple's ($78.4 billion)
Apple's $7.17 billion from its Services unit alone approaches the revenue of all of Facebook ($8.81 billion), but Facebook shares trade at a P/E of 38.99, meaning Facebook's market cap ($389.23 billion) is almost half as large as Apple's despite achieving quarterly revenues that are close to a tenth of Apple's ($78.4 billion).
Like Google, Facebook also has a business model that depends almost entirely upon ads, and that faces real competition from both the incumbent Google and encroaching new players including Snap. Unlike Apple, Facebook and Google have no entry into the Chinese market, and little potential to enter it.
Apple's luxury electronics and proprietary app development platforms are unrivaled on a global level, and Apple is the only company with strong market share in both the U.S. and China, the world's two largest markets for smartphones and related products.