Apple shareholders again reject proposal to diversify senior management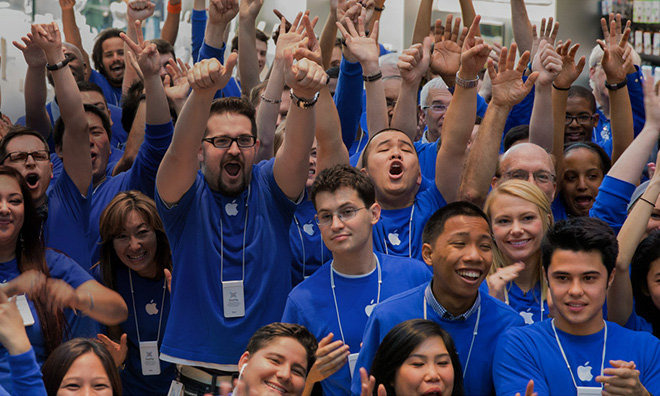 For the second year in a row, Apple shareholders on Tuesday voted against a proposal that would force the company to actively recruit "people of color" to high-ranking management positions and its board of directors.
Touched on briefly during yesterday's shareholder meeting in Cupertino, the shareholder proposal sought to increase diversity among the company's upper echelons.
Apple requested shareholders reject the proposal on the grounds that its "holistic view of inclusion and diversity" generates opportunity for underrepresented minorities within the tech community. Shareholders apparently agreed, voting overwhelmingly to oppose the proposal, according to a Securities and Exchange Commission filing published Wednesday.
The final tally saw nearly 2.83 billion shares representing 95 percent of the vote cast against the diversity proposal. Only 146 million votes were cast in favor of its ratification, while 135 million abstained. Brokerage held shares, which do not have the power to vote on proxy proposals, were at 1.42 billion shares this year.
With the initiative only capturing 6 percent of the vote, Apple has grounds to block the inclusion of similar proposals in future proxy votes for three years.
Tony Maldonado and Zevin Asset Management, who first lodged the suggested action in 2015 and managed to persuade Apple to put it to vote last year, believe Apple's recommendation in opposition ultimately quashed its success.
"Apple basically duped the investors, to be quite honest," Maldonado said in an interview with The Verge. "They conned 'em to say, 'Look, we're on top of it. Don't worry about it. Everything's fine.' However, I believe that shareholders don't have all information as to the background of the issue."
For its part, Apple deems current efforts to diversify its workforce sufficient. As evidenced by the company's regular diversity reports, however, the initiative is slow going.
In its most recent EEO-1 report filed in November, 73 of Apple's top 107 executives and senior officials and management were white males. Perhaps more telling, Apple added one Hispanic or latino employee and two Asian members to its top ranks over the trailing 12-month period. The report noted only three black or African American executives.
Apple believes the required government statistics are inferior to its own internal metrics on diversity.
"The EEO-1 has not kept pace with changes in industry or the American workforce over the past half century," the company notes on a webpage dedicated to workplace diversity. "We believe the information we report elsewhere on this site is a far more accurate reflection of our progress toward diversity."
Moving forward, Maldonado is looking to work around the three-year proviso, perhaps by incorporating specifics about a comprehensive diversity plan. Whether or not he will be successful in finding a loophole is unclear. More importantly, Maldonado needs to reach the vast majority of shareholders who voted against the measure twice in as many years.
"For some strange reason, I would say that shareholders have the belief that by accepting this proposal, the company would be forced to establish reverse discrimination policies," he said. "We just have to probably expand on the campaign on educating all shareholders, including institution shareholders, that this is more beneficial and at the end of the long run it will help us to improve our bottom line."