Rumor: Apple's 'iPhone 8' might not feature full-screen OLED sans home button, to launch long after September reveal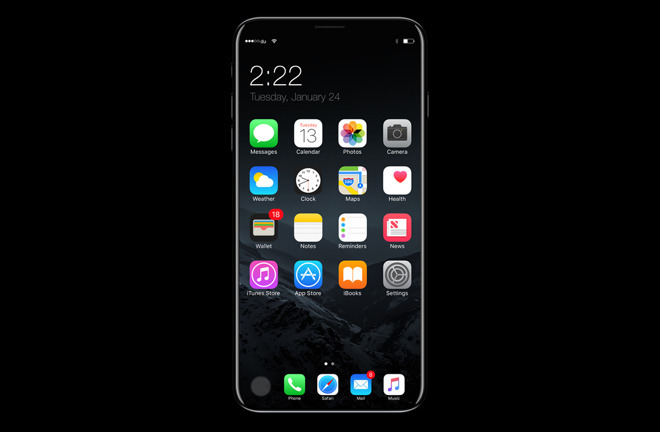 Though analyst consensus has Apple releasing an OLED "iPhone 8" with wireless charging and "invisible" home button later this year, a report on Tuesday claims the described model is but one of many prototypes that might not make it to production.
Citing a source familiar with the matter, Japanese blog Mac Otakara on Tuesday said Apple is still working to finalize an "iPhone Edition" set to debut alongside expected "iPhone 7s" and "iPhone 7s Plus" handsets this fall.
According to previous reports, this year's flagship iPhone, tentatively dubbed "iPhone 8," is said to feature a glass-sandwich design, full-face 5.8-inch OLED screen and an under-display or integrated fingerprint sensor. Of note, the new design is said to eschew Apple's longstanding Touch ID home button for an onscreen "function area" dedicated to virtual controls.
Mac Otakara claims a similar next-generation iPhone prototype is indeed undergoing evaluation in engineering verification testing (EVT), but Apple might not elect to manufacture the model this year. The company currently has multiple prototypes in the EVT stage, both with and without Touch ID home button. Other iterations under consideration incorporate IPS TFT or AMOLED screens and chassis designs made from glass, aluminum, white ceramic and other exotic materials.
Apple has a long way to go before deciding on any one particular design, the report said. In fact, not much has been settled beyond the basic concept of a 5-inch format display, dual camera array and wireless charging. Excluded from the list of candidate technologies are USB-C — a dubious rumor already debunked by KGI analyst Ming-Chi Kuo — and potential dual-display arrangements.
The report goes on to say that recent analyst predictions regarding the upcoming iPhone model are based on Apple requests for material samples, and might be somewhat misleading. In order to move from the EVT stage to design verification testing (DVT), the company needs to discern which components are available, or will be available, in time for production later this year. The inquiries do not necessarily reflect intent, meaning analysts are offering information on prototypes that may not make the cut.
That being said, much of the "iPhone 8" information in current circulation originates from Kuo, a veteran with a strong track record in predicting Apple's moves.
Today's report also claims Apple is looking to announce its flagship handset alongside evolutionary "iPhone 7s" and "iPhone 7s Plus" updates in September, but will likely release the special edition smartphone at a much later date.
The supposed launch timeline jibes with a recent report from DigiTimes that claims Apple's custom fingerprint sensor is not slated to enter mass manufacturing until September. That would imply a street date sometime in November, at the earliest.
Mac Otakara has a decent track record when it comes to predicting future Apple releases. Last year, for example, the publication was first to claim the then-unreleased iPhone 7 would not include a 3.5mm headphone jack. The same person or persons who furnished that particular bit of information is the source of today's report.