All of Apple's 2017 iPhones will include fast charging via Lightning port, not USB-C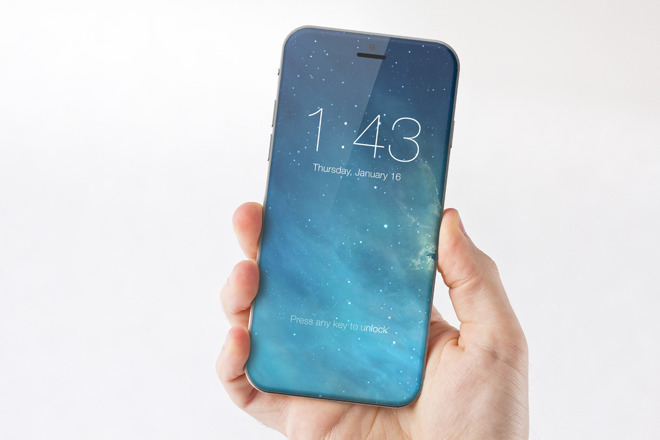 While the underlying technology behind the charging may change, the Lightning port will remain on all of Apple's three new iPhones coming later this year — including the flagship "iPhone 8" — according to analyst Ming-Chi Kuo of KGI Securities.
Apple is expected to utilize "Type-C Power Delivery" technology in this year's iPhones, Ming-Chi Kuo said in a research note on Thursday, a copy of which was obtained by AppleInsider. The note specifically refutes a questionable claim made earlier this week by The Wall Street Journal, which suggested Apple could ditch the Lightning port with this year's "iPhone 8," instead switching to the same USB-C port found on the company's latest MacBooks.
That rumor was unlikely for a number of reasons, including a lack of clear advantages in changing the connector type. But one key advantage instead lies in the underlying technology, which can be integrated into Apple's own proprietary Lightning port.
Kuo noted that safety and stable data transmission during a fast charge are crucial elements for Apple to nail in the switch. He believes the company will adopt power management from Texas Instruments and power delivery chips from Cypress.
In addition, the high-end "iPhone 8" may boast even faster charging thanks to a 2-cell L-shaped battery pack design. Still, "Type-C Power Delivery" is expected on all three handsets this year.
Kuo noted that one potential advantage for switching to USB-C would be faster transfer of high-definition videos. However, he said that high-speed data transmission is a "niche application" for the iPhone, which is why Apple will stick with the Lightning port.
The Lightning port is slightly thinner than USB-C. It also allows Apple to collect royalties on its Made for iPhone program, which licenses use of the Lightning port.
As AppleInsider noted earlier this week, Apple has doubled down on Lightning accessories in the last few years, making abandonment of the port on its flagship device extremely unlikely. Use of the proprietary connector has expanded from "iDevices" to accessories, including the Apple Pencil, Apple TV Siri Remote, AirPods, and BeatsX headphones, among others.
Instead, it's more likely that Apple might switch to a USB-C connector on the opposite end of the Lightning cable that ships in the box. That would allow users to plug their "iPhone 8" into one of the company's new MacBook Pros, or the 12-inch MacBook.
Beyond fast charging via Lightning, Apple is also expected to introduce contact-based wireless charging for all three iPhone models this year, including the "iPhone 7s" and "iPhone 7s Plus." The addition would allow users to juice their device by simply placing it on a compatible charging pad.
The flagship "iPhone 8" is expected to stand out in a number of ways, including its price tag, rumored to start above $1,000. The handset is said to feature an all-new, all-glass exterior with a curved OLED display that will embed components like Touch ID, the earpiece and the FaceTime camera into or beneath the screen.
The forward-facing camera is also expected to see a major overhaul with "revolutionary" 3D facial recognition technology, allowing for a new secure biometric login method. The device is also expected to ditch the physical home button that has been found on every iPhone to date, replacing it with a display function area below the OLED panel, dedicated to system functions with virtual buttons.
The "iPhone 8," "7s," and "7s Plus" are all expected to debut in Apple's usual September timeframe. The "iPhone 7s" series is believed to feature largely the same design and form factor as the current iPhone 7 lineup, allowing the premium "iPhone 8" design to stand out.