Apple's 'iPhone 8' to replace Touch ID home button with 'function area,' start at $1,000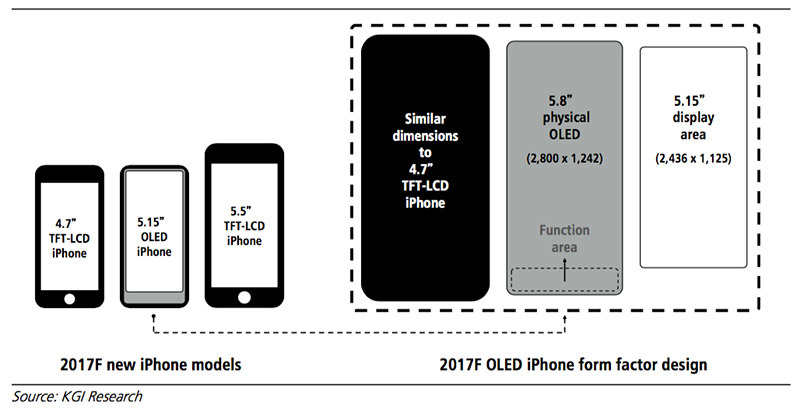 Apple will ditch the home button when it debuts a new 'iPhone 8' model later this year, and will dedicate the extra screen real estate to an area for virtual buttons, according to KGI analyst Ming-Chi Kuo.
Adding detail to his previous predictions regarding the next-generation handset, Ming-Chi Kuo in a note to investors obtained by AppleInsider said the full-screen design will allow Apple to integrate a "function" area never seen in an iPhone.
The device is expected to adopt a 5.8-inch OLED panel in a form factor similar to the current 4.7-inch iPhone 7. Despite having extended screen real estate as compared to current iPhone models, the actual active display area on "iPhone 8" will be closer to 5.15 inches on the diagonal, with the remaining bottom portion dedicated to system functions like virtual buttons.
While Kuo failed to elaborate on an exact implementation, the note suggests Apple plans to hardcode a set of always-on, static system controls into iOS. Whether the so-called "function area" is capable of switching to an active display mode for in-app activities like watching videos or playing games, remains to be seen.
Kuo's predictions jibe with a The New York Times report last year claiming the next iPhone will boast virtual buttons instead of the usual physical controls.
With the deletion of current Touch ID technology, Kuo believes "iPhone 8" will incorporate new bio-recognition assets to take over device security and Apple Pay authentication duties. Apple introduced Touch ID fingerprint recognition technology with iPhone 5s in 2013, later expanding its use to all iPhone and iPad models. Most recently, the company brought Touch ID to Mac with the 2016 MacBook Pro with Touch Bar.
The analyst did not offer predictions on the type of biometric tech Apple intends to use, but a report earlier today said the company could integrate a 3D laser scanning module capable of facilitating facial recognition and augmented reality applications. Kuo in a note last month said Apple might integrate a dual biometric system utilizing optical fingerprint readers and facial recognition hardware.
While speculation, Apple will likely integrate some flavor of finger scanning tech in its upcoming flagship, perhaps accompanied by a secondary form of authentication. Though it might not feature the same capacitive sensing equipment, the Touch ID brand is expected to live on.
Coincidentally, Apple this week was granted a patent covering a micro LED display capable of detecting touch events and user fingerprints with specialized infrared diodes. Invented by Apple acquisition LuxVue, a small company specializing in power-efficient screen technology, the IP contains contingencies for application in OLED displays.
Kuo goes on to estimate an "iPhone 8" price tag starting at $1,000, reiterating a figure first divulged in a report this month. The price hike is attributed to a 50 to 60 percent bump in production costs compared to the anticipated "iPhone 7s" LCD models.
In a separate note sent out on Wednesday, Kuo reiterates earlier predictions regarding Apple's use of a stacked logic board, called a substrate-like PCB mainboard. Stacked SLP arrangements afford more internal space for a larger battery and other integral components, while maintaining a thin overall form factor.