Teen iPhone ownership hits all-time high, interest in Apple Watch ticks up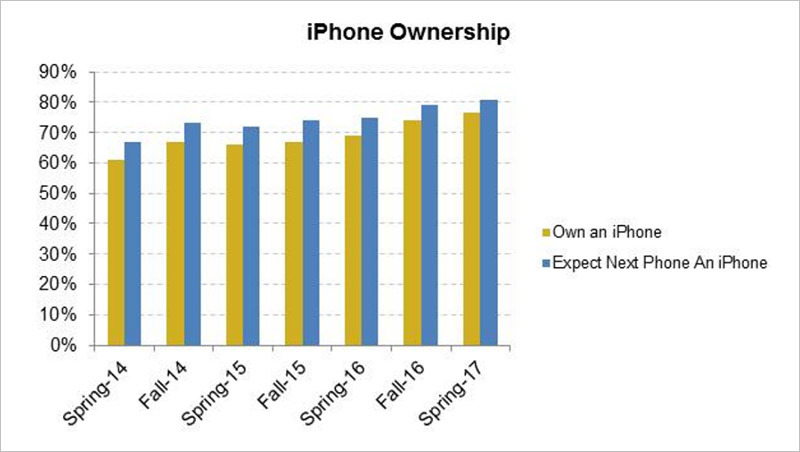 Apple's mobile products continue to rise in popularity amongst U.S. teens, as fresh survey data from Piper Jaffray shows more than three out of every four teens now own an iPhone and even more intend to buy.
According to statistics presented in Piper Jaffray's latest "Taking Stock with Teens" report, 76 percent of the more than 5,500 teens surveyed own an iPhone, the highest rating ever recorded for the demographic. Purchase intent also remains high, with 81 percent of respondents saying their next handset will be an iPhone. By comparison, runner up Android managed a purchase intent of 13 percent, down from 17 percent last fall.
Apple products, especially the flagship iPhone range, have always tracked well with young users. The investment bank's metrics show a steady climb in both ownership and intent to buy over the past two years, with a slight dip in spring 2015. At the time, Apple was marketing its first large-screen handsets in the iPhone 6 and 6 Plus.
The recent numbers compare nicely to last year's survey in which 69 percent of teens owned owned an iPhone, while 75 percent expected to make the Apple handset their next smartphone.
Driving continued interest is the expected iPhone "supercycle" set for unveiling this fall. Along with generational updates to iPhone 7, Apple is widely anticipated to release a special OLED model with advanced features like an embedded home button and a depth-sensing front-facing camera.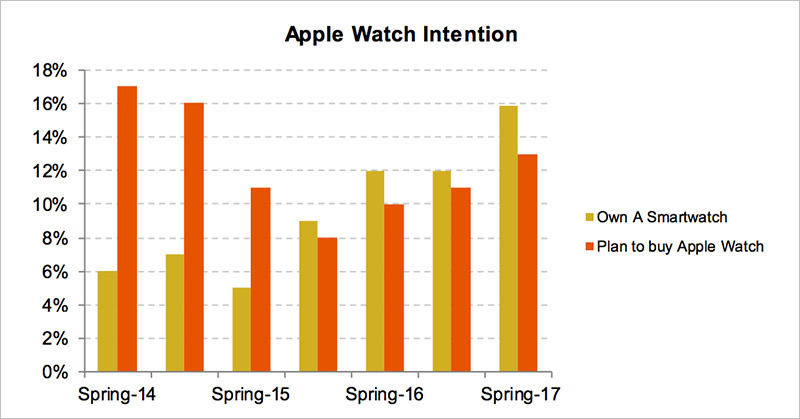 As for wearables, interest in Apple Watch is slowly creeping back to levels seen before the device was unveiled in fall 2014. In spring 2014, some 17 percent of teens surveyed planned to buy Apple Watch, a figure that fell to 8 percent in fall 2015.
Apple Watch remains the top smartwatch among teens, with 11 percent of respondents being current owners and 13 percent planning to buy a model within the next six months. Purchase intent is up two points from fall 2016. Samsung Gear placed second, with 2 percent of teens saying they owned the device.
Overall ownership among U.S. teens has grown steadily since 2015, with just under 16 percent of respondents saying they own some ilk of smartwatch. That number stood at just 5 percent two years ago.
For fitness bands, market leader Fitbit remains at the top of the list with a 71 percent share of teen mindshare. Apple usurped Nike to take second place with a 10 percent share. Some 24 percent of teens surveyed said Fitbit was their favorite fitness app, with Apple close behind at 17 percent.