Review: Garmin's Fenix 5 smartwatch aims at athletes, not Apple Watch fans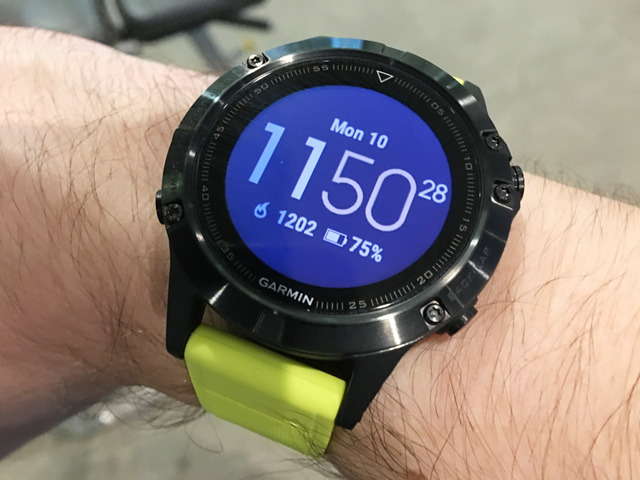 AppleInsider is supported by its audience and may earn commission as an Amazon Associate and affiliate partner on qualifying purchases. These affiliate partnerships do not influence our editorial content.
Garmin's Fenix 5 is an impressive smartwatch for people serious about fitness or the outdoors, but probably both too much and too little for people expecting something like the Apple Watch.
Like its predecessor, the Fenix 3 HR, the Fenix 5 doesn't mess around. While the 5 does have a faster processor and a (slightly) sharper display than the 3 HR, any apps it supports — first- or third-party, the latter from the Connect IQ store — are still almost exclusively fitness- or navigation-oriented. Garmin sells it as a "multisports GPS watch," and suitably, people who want to play games or control their smarthome accessories should probably look elsewhere — even its weather, music, and notification widgets feel like luxuries.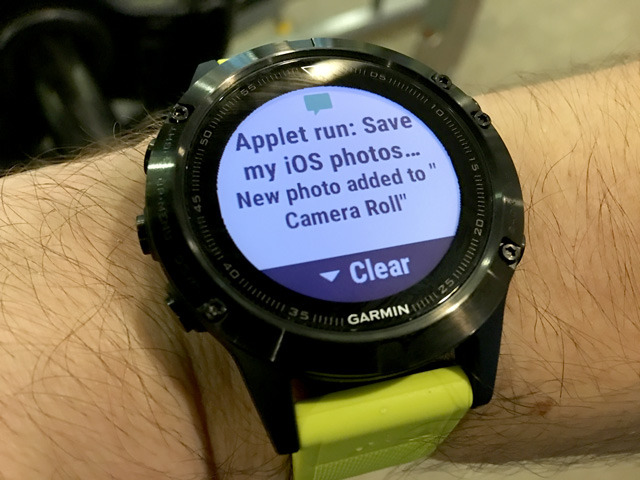 Our review unit was an upgraded version of the standard Fenix 5, with a sapphire screen and hence Wi-Fi as well — non-sapphire models are limited to Bluetooth. Two other models are available: the 5S, which is smaller and sacrifices battery life, and the 5X, which is bigger, sapphire-only, and includes extensive mapping functions, seemingly aimed at people who spend most of their lives outdoors.
The regular Fenix 5 at least feels extremely rugged. It uses screwed-down stainless steel for the bezels and undercarriage, and should be waterproof to a depth of 100 meters. We had no problems with sweat or wearing it in the shower. The sapphire option mostly makes the screen more scratch-resistant — something worth considering, though, for buyers who like to play rough. New quick-release bands are not only durable, but easy to swap out.
Battery life is likewise pretty tough. In theory the watch can last up to 2 weeks in normal use, or 24 hours in GPS mode — stats which simply annihilate most competing products, especially the Apple Watch. They seem to bear out in practice too, since after a week and three extended workouts, we were only down to 69 percent charge. Realistically the Fenix 5 should be taken off long before the two-week mark for cleaning and comfort's sake.
An alternate version of GPS mode, called UltraTrac, reduces sample rate but improves battery life to 60 hours. New to the Fenix 5 in this area is the use of an internal gyroscope to smooth over position data.
In fact the device is chock full of sensors, including a three-axis compass, an altimeter, and even GLONASS as an alternative to GPS. An upgraded heart rate sensor takes readings every second of every day — while this doesn't flood Garmin Connect or Apple's Health app with a non-stop stream of data, it should in theory improve the accuracy of the data that does sync.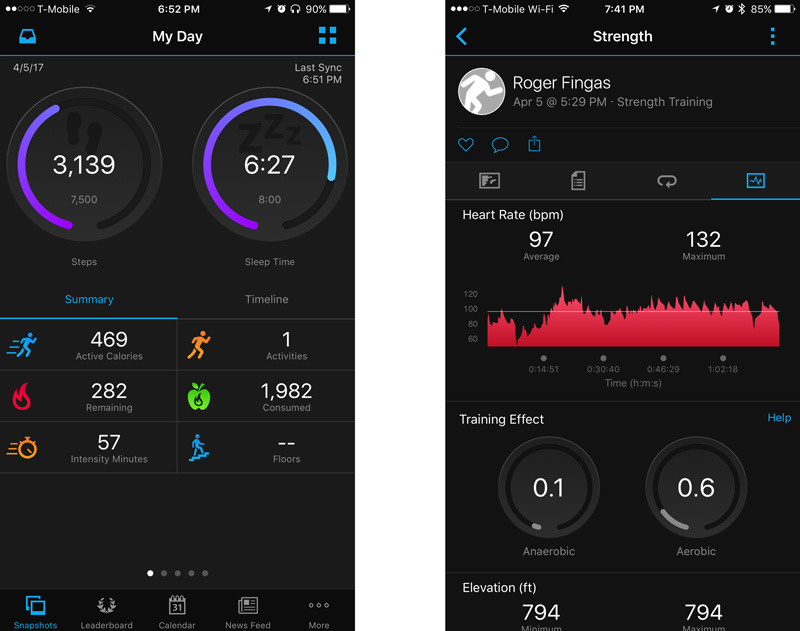 Our own testing surprised us with substantially lower heart rate numbers than some of the other fitness trackers we've reviewed, mainly in exercise. Based on various factors we suspect that the other devices were overestimating, and that Garmin's data is more accurate. True or not, we still encountered some occasional lag during workouts.
Garmin's interface design will likely remain a problem for some people, since there's no touchscreen and it can take time to memorize the button layout. To the company's credit though a faster processor does make the watch feel snappier than the 3 HR, and menus have been reorganized, making them less convoluted. It took us less time to configure the Fenix 5, including setting up a watchface with colors and complications we liked.
Inexplicably Garmin still makes users turn on gesture-triggered backlighting, something we find essential with its products. The Fenix 5's screen is always on, but like the 3 HR, it can be hard to read without direct sunlight and the backlight otherwise activates only when you hit a button.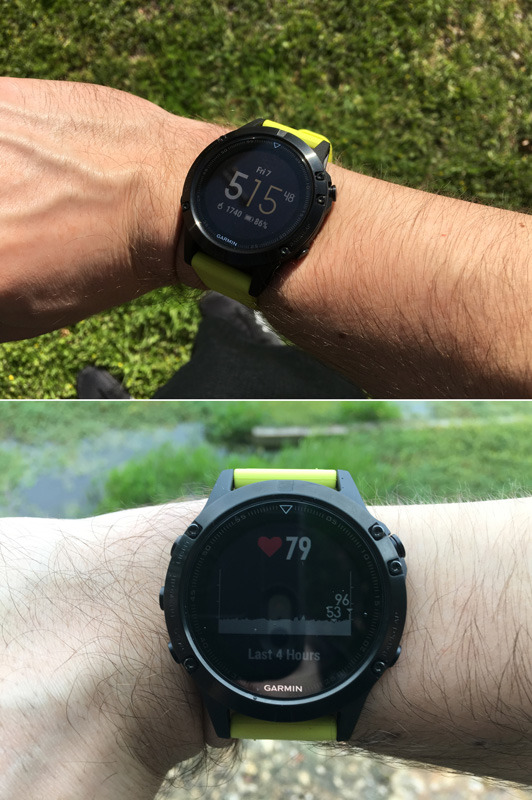 For people obsessed with performance, the watch features an overwhelming number of tracking options. In addition to calorie burn, heart rate, steps, and distance, it can estimate stats like VO2 max or lactate threshold, and even gauge whether someone is improving in their training regimen over time. It also supports first- and third-party sensors like chest straps, enabling maximum accuracy in heart and running data.
It moreover offers an absurd number of pre-defined (and sometimes auto-detected) activities, including not just standard options like running and swimming but rarities like skiing and golfing. One complaint is that as usual, Garmin seems biased towards cardio workouts — while there is a Strength activity for instance, it offers barebones data and isn't even included in the default selections.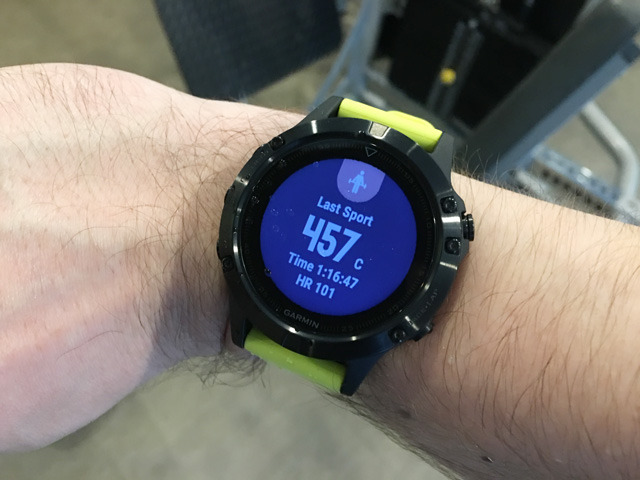 Arguably weightlifters can get the same or better by pairing a cheaper tracker with a chest strap. That being said, those who mix serious cardio into their regimens will probably enjoy the flexibility.
Conclusions
The Fenix 5 is a natural option for hikers, triatheletes, or just athletes in general. It's indestructible, and bound to last as long as they could possibly demand.
Even some fitness fanatics may have to wonder if they need something so extreme, however. Garmin itself sells devices which do many of the same things for less, not to mention alternatives from other "serious" fitness device makers like Polar. As we suggested, it may not make sense to get a Fenix unless cardio is a high priority.
Then of course there's the issue of life beyond gyms and trails. The watch is certainly useful for the things every smartwatch does, with the rarer bonus of that always-on display — it's nice being able to check calories or notifications in an instant. But there are no email or password apps, no wireless payment systems like Apple Pay.
iPhone owners who need those sorts of creature comforts should probably stick with an Apple Watch Series 2. It's almost an unfair comparison though — the Fexix 5 knows exactly where its audience lies, and for that group, there aren't many alternatives of the same caliber.
Score: 4 out of 5
Where to buy