Apple's AirPods achieve 98% customer satisfaction in new study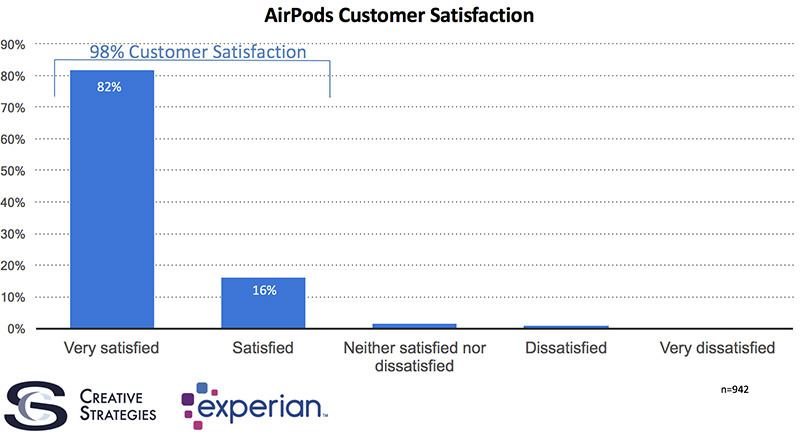 According to recent survey conducted by market research firm Creative Strategies, a record breaking 98 percent of AirPods owners said they were either "very satisfied" or "satisfied" with the wireless headphones.
The survey, conducted in partnership with Experian, polled 942 people to find 82 percent of AirPods owners "very satisfied" with their purchase, while another 16 percent responded as "satisfied." The collective 98 percent satisfaction rating is the highest Creative Strategies has seen for an Apple product.
"The overall customer satisfaction level of 98% sets the record for the highest level of satisfaction for a new product from Apple," writes Ben Bajarin, principal analyst at Creative Strategies. "When the iPhone came out in 2007, it held a 92 percent customer satisfaction level, iPad in 2010 had 92 percent, and Apple Watch in 2015 had 97 percent."
Results posted to the firm's website on Monday did not apply figures to other customer ranking levels, though a bar graph showed only a sliver in the "neither satisfied nor dissatisfied" category, and an even smaller representation for those "dissatisfied" with the product. Judging by the graph, no respondents selected "very dissatisfied" as an answer.
The survey also asked users if they were willing to recommend AirPods to others. Known as a Net Promoter Score, the metric is based on a scale ranging from 0 to 10, with 0 being "not likely at all" to recommend and 10 being "extremely likely." AirPods scored an aggregate of 75, higher than iPhone's NPS of 72. Specialists consider NPS ratings above 50 as excellent, while figures over 70 denote a world class product, Bajarin says.
Bajarin goes on to say that AirPods' NPS score is somewhat of anomaly considering many current owners are early adopters. Previous research linked to Apple Watch and other cutting edge technology like Amazon's Echo reveal early adopters tend to withhold high recommendations for new devices, often citing the products as not ready for mainstream use.
Diving deeper into the numbers, respondents offered high marks — 97 to 98 percent — for specific features including time to charge, charging case design and Apple's pairing process. Powered by Apple's W1 chip, AirPods pairing is a streamlined one-tap process on compatible iPhones and Macs, and is marketed as a marquee feature.
Battery life and comfort received average scores of 95 percent, while a secure fit — a major concern prior to AirPods' release — landed at 93 percent. Of note, 4.6 percent of respondents said they were dissatisfied with fit.
Finally, the survey asked a few general questions to determine customer sentiment about AirPods and the accompanying product launch. Notably, 82 percent of respondents strongly or somewhat agree that AirPods are their favorite Apple debut in recent memory, a major accomplishment for what is being billed as an iPhone accessory.
Other responses relate to usage, with 88.97 percent of respondents saying they strongly or somewhat agree that AirPods consistently pair to their iPhone as soon as they put one in their ear. Another 82.5 percent of owners would like access to additional controls. Currently, AirPods users can answer calls by tapping on either earbud, with a double-tap invoking Siri for advanced controls like volume adjustment and track skipping.