Apple's latest video ad continues focus on iPhone 7 Plus Portrait Mode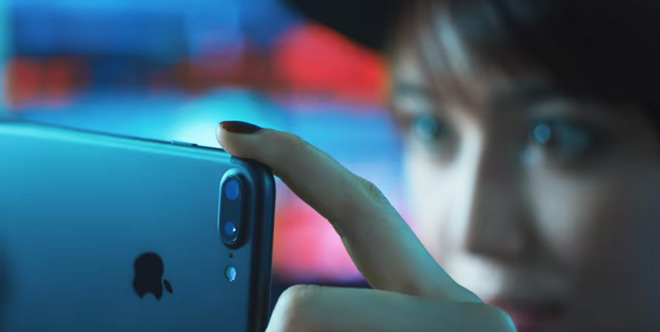 AppleInsider may earn an affiliate commission on purchases made through links on our site.
Hammering home a common marketing point, Apple on Monday released a new commercial, "The City," demonstrating the Portrait Mode available on the iPhone 7 Plus.
The commercial depicts a couple roaming through Shanghai, enjoying various activities together and snapping photos. A key conceit is that by using Portrait Mode, iPhone owners can make literally make everyone else disappear.
Apple has run a number of ads promoting the 7 Plus camera. Unlike the regular iPhone 7, the Plus model uses twin lenses, which in combination with software processing can be used to artificially blur backgrounds, simulating the bokeh of a professional DSLR. Outside of Portrait shooting, the second lens enables 2x optical zoom.
The phone's camera is likely why the 7 Plus has proven more popular than previous Plus devices. With the 6 Plus and 6s Plus, the only core advantages were a bigger, 5.5-inch screen and optical image stabilization. The iPhone 7 and 7 Plus share the same stabilization technology.
The "iPhone 8," expected to launch later this year, may feature a vertically-aligned dual-lens camera. Other features could include a 5.8-inch OLED display, wireless charging, and/or advanced biometrics such as 3D facial recognition.