Apple services, "Other" revenue sources impress with massive Q2 growth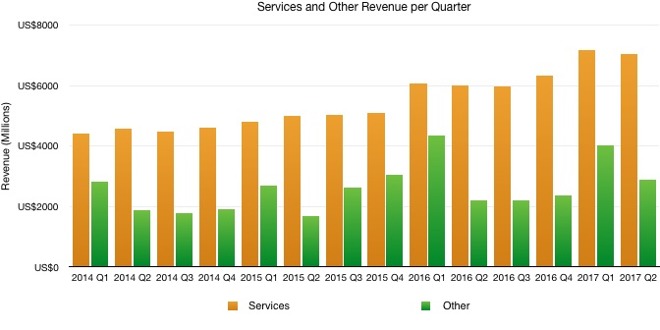 AppleInsider may earn an affiliate commission on purchases made through links on our site.
In a strong second fiscal quarter performance, both services and the "other" categories stand out, with 18 percent and 31 percent growth versus 2016, respectively.
In an earnings report on Tuesday, Apple said services generated $7.04 billion, with other products generating $2.87 billion. While both numbers are down from the holiday quarter, a more meaningful comparison is to the same quarter in 2016, with the company pulling down $5.99 billion and $2.19 billion respectively.
Apple's Services category includes iTunes, iCloud, Apple Music, Apple Pay, Apple Care and the various App Stores. The company's Other category spans sales of Apple TV, Apple Watch, Beats products, iPod and Apple-branded, and third-party accessories.
Apple CEO Tim Cook noted on the earnings conference call after the results were announced that Apple's revenue from wearables, including the Apple Watch, Beats, and AirPods alone would qualify for Fortune 500 status, if broken out.
Echoing statements made three months ago, Cook reiterated that services is on track to become the size of a Fortune 100 company by the end of the year. The growth is also quite stable when compared against the growth rates of other parts of the company, with minimal seasonal variance.
It is likely Apple will continue to see consistent growth in services for quite some time, a belief shared by financial analysts. It is speculated revenue will grow 17 percent every year until 2021, with Ben Schachter of Macquarie Securities calling the App Store, a core component of Services, "one of the best business models ever created."