Apple highlights US job creation on new webpage, touts 2M jobs across 50 states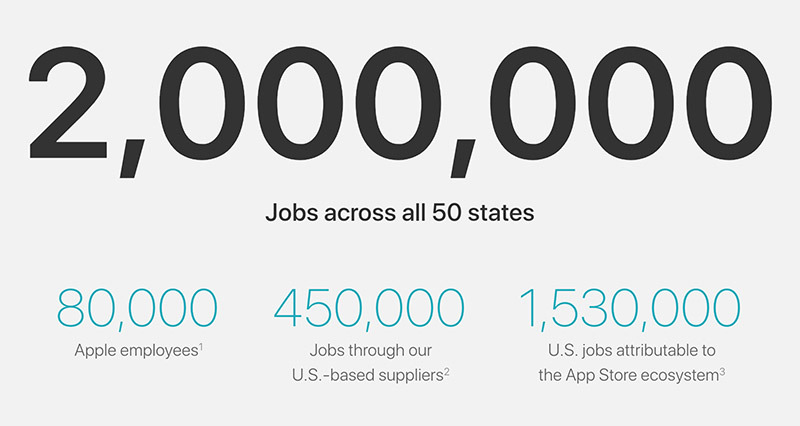 AppleInsider is supported by its audience and may earn commission as an Amazon Associate and affiliate partner on qualifying purchases. These affiliate partnerships do not influence our editorial content.
Apple on Wednesday debuted a new webpage dedicated to highlighting the company's efforts toward generating jobs in the U.S., including the creation of two million jobs broken down by state, operating segment and more.
Apple's new Job Creation webpage is for the most part a basic informational web asset similar in spirit to other Apple.com pages touting the company's public projects. Like pages dedicated to the environment and privacy, the job creation site offers facts and figures about Apple's endeavors in the area.
The numbers tell the story. Apple is one of the biggest job creators in the United States, responsible for two million jobs in all 50 states. Last year, we spent over $50 billion with more than 9,000 U.S. suppliers and manufacturers. Since we launched the App Store in 2008, U.S. developers have earned over $16 billion in App Store sales worldwide. And we're just getting started.
There are now 80,000 Apple employees living and working in the U.S., up 1,500 percent since the launch of iMac in 1998, the company says. Apple notes its expansion is nationwide, with a 28 fold increase in jobs created outside of California since 2000. Broken down further, Apple says there are 29 cities with 250 or more employees and 44 states with at least one Apple Store (not counting the Washington, D.C., outlet).
An interactive section just below the large "2,000,000" number breaks down jobs by state. Each state gets a card bearing information on Apple's impact to their respective workforces. For example, the cards include numbers reflecting Apple employees, jobs related to the App Store ecosystem, number of Apple partner suppliers — with facility breakdowns — and retail store count. In addition, Apple lists three apps created by people or companies from each state.
A separate section puts a face to hard numbers by profiling a few employees — none from California — who work at Apple's various facilities.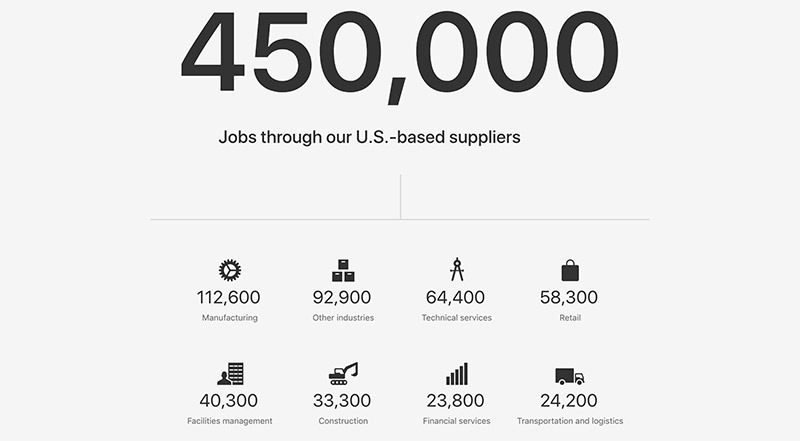 With the webpage, Apple is sending a clear message that the production and distribution of its devices, device components and manufacturing materials in some way affect domestic job creation. Hammering the point home, Apple notes some 450,000 jobs were created through U.S.-based suppliers, 90,000 of which were added within the past year.
Again, Apple inserts a special section profiling a few plant workers from companies like 3M, Caterpillar and Lapmaster.
We work with manufacturing locations in 38 states and more than 9,000 suppliers in all 50 states. And every one of our core products — iPhone, iPad, Mac, Apple Watch, and Apple TV — contains parts or materials from the U.S. or is made with equipment from U.S.-based suppliers.
The app economy is far and away the largest contributor to Apple's two million job figure, with 1.53 million jobs created and supported by the firm's various App Stores. The webpage illustrates developer distribution with a map graphic. Unsurprisingly, California sees the biggest benefit with 370,800 jobs created by Apple's app economy, while New York comes in second with 120,000 jobs.
Finally, a list of "key U.S. investment projects" is provided, including Apple's campus in Austin, Texas, a global command center in Mesa, Ariz., and data centers in Maiden, N.C., Prineville, Ore., and Reno, Nev.
The webpage launch follows Apple CEO Tim Cook's interview with CNBC's Jim Cramer. During the one-on-one talk, Cook spoke briefly about Apple's impact on the U.S. economy, especially as it pertains to jobs. He also announced a new $1 billion U.S. fund expected to generate jobs by investing in advanced manufacturing. The first target beneficiary will be announced later this month.