Cook charity auction raises over $680K for Robert F. Kennedy Human Rights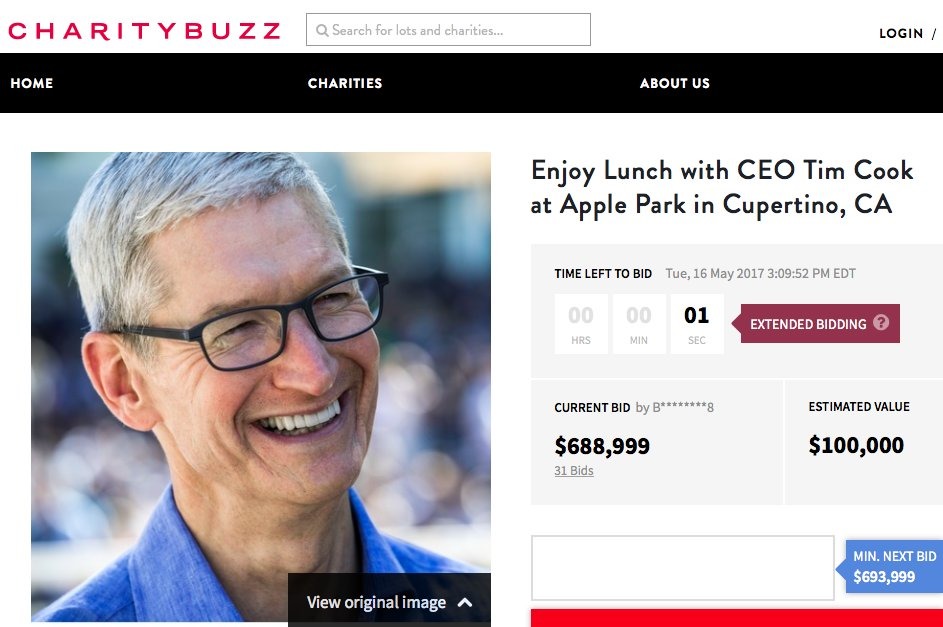 An auction offering lunch with Apple CEO Tim Cook has officially ended, raising $688,999 for Robert F. Kennedy Human Rights — the highest amount ever in a series of such auctions with Cook.
The anonymous winner and a guest will get a one-hour meal with the CEO at Apple Park, though they'll have to pay for any associated travel and accommodation costs. The company is notably excluding a reward from past auctions, which let winners attend an upcoming Apple press event.
Prior to today, the highest amount generated in one of the Cook lunch auctions was $610,000, raised during the first one back in 2013. Last year, the total reached $515,000.
Cook has close links with Robert F. Kennedy Human Rights, which supports various legal and educational efforts around the world. Most significantly the CEO is on the group's board of directors.
Part of the appeal of the latest auction may be the fact that Apple Park is extremely new and technically unfinished, although the first workers should move in soon if they aren't there already. The core of the complex is the "spaceship," an enormous ring with curved glass windows and many other meticulous design details.
It's also claimed to be the world's biggest naturally-ventilated building, and will run primarily on green energy, using a mix of rooftop solar panels and fuel cells.