Watch: Rumors of a Siri home speaker heat up as Apple heads toward WWDC
By AppleInsider Staff
Friday, May 19, 2017, 10:15 am PT (01:15 pm ET)
Apple is believed to be working on a home audio device that will allow users to make Siri queries without directly interacting with other devices. AppleInsider offers a quick rundown of all the latest rumors on Apple's so-called Siri home speaker, which could debut as soon as next month.



For more videos like this, subscribe to the official AppleInsider channel on YouTube.
Unbeatable Deals from AppleInsider & Apple's Top Authorized Resellers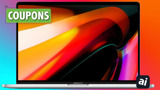 SAVE $300.00 - Save $150 to $300 on every 16-inch MacBook Pro
Today's Headlines
No news headlines yet today
Lowest Prices Anywhere!