Apple eGPU dev kit requires external monitor, nothing unique about graphics card or enclosure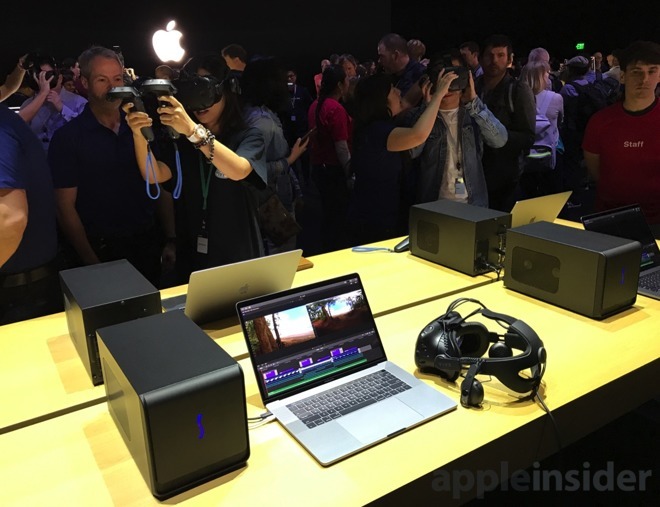 Apple has started taking orders for its external GPU developer's kit for examination with macOS High Sierra, but the Apple software available to the wider user base until spring 2018, as released still has major caveats, and mandates an external monitor or VR kit for use.
The enclosure is the Sonnet eGFX Breakaway Box, a single PCI-E slot enclosure capable of containing a single double-wide PCI-E graphics card. In Apple's shipped configuration, the enclosure can take cards that utilize only a single eight-pin power plug, eliminating some of the more power-hungry video cards from use in the enclosure.
The video card is a reference-design AMD Radeon RX 580 PCI-E card, with no other apparent hardware modifications — but we'll be looking at this more in-depth at a later date.
Limitations of the early release
At launch, Apple's release notes point out several known issues with the hardware. The ones with the most impact to the user include:
Lack of support for mirrored displays
No "clamshell mode" support
No support for HDMI audio
AutoLogin failure when EGPU is attached
No acceleration of internal display on iMac, MacBook Pro
60W of charging power, not 87W
No support for USB-C displays
No sleep support for attached mac — but display sleep is fine
Some of these issues, like internal display acceleration at the cost of a performance hit, have work-arounds developed by the eGPU community — but most do not. We have not yet assessed the work-arounds in conjunction with High Sierra.
Given the work by the enthusiast community on the over-arching concept, it seems possible that internal display acceleration might be added in the future. However, it doesn't seem like a priority, given the performance hit on looping back the accelerated video to the computer, and Apple's focus on VR headsets for the release.
Existing limitations on the video cards probably prevent USB-C displays from being accelerated by the technology, until a GPU PCI-E card is released allowing it. Compatibility with the Thunderbolt 3 LG UltraFine 5K display may never come, given its unique method of connection to a host computer.
Developer kit hardware is cost-effective, and has no "Apple tax"
While firm pricing on the Sonnet enclosure isn't known, early examinations suggest it will retail for $299. The AMD Radeon RX 580 PCI-E card sells for about $280, and the USB-C to USB-A hub included in the kit is about $30. Also included, is a $100 coupon for the HTC Vive VR headset.
Apple sells the developer's kit for $599. The included hardware is about worth that, and the coupon is a bonus above and beyond the value of the hardware.
If you've got an eGPU already, you're probably still set
AppleInsider acquired a Radeon RX 580 GPU and installed it in our test PowerColor Devil Box, and Mantiz Thunderbolt 3 enclosure provided to us by the manufacturer — and both were compatible with High Sierra with no other hardware or hacks required. When Nvidia makes drivers available for High Sierra, we will examine those as well — but we have no reason to believe that they won't work.
Additionally, if you're running Thunderbolt 2 Macs, you're in luck. At present, the Power Color Devil Box and the Mantiz enclosure also work when connected to a Thunderbolt 2 Mac using Apple's bi-directional Thunderbolt 3 to Thunderbolt 2 adapter — but Apple does declare in the release notes that this is an unsupported configuration.
It worked before, but Apple support is better
In our continued testing with eGPU enclosures, connected Mac hardware gets big boosts from the enclosures. Whether or not it's a cost-effective boost is another matter.
As shipped without a graphics card, the first enclosures cost around $600. If previous reports about the Sonnet eGFX Breakout Box are accurate, it alone retails for half of what the original hardware did.
However, Apple's is the largest vendor of computers equipped with Thunderbolt 3 — at least for now. Explicit support of the technology will hopefully lead to more options, and possibly lower prices. The possibility of lower pricing, at least on the low end, plus Apple's anointment of the technology makes it a better option for mainstream users looking for a boost when finally enabled in a spring release of High Sierra.