First 'Planet of the Apps' episode drops tonight, free to watch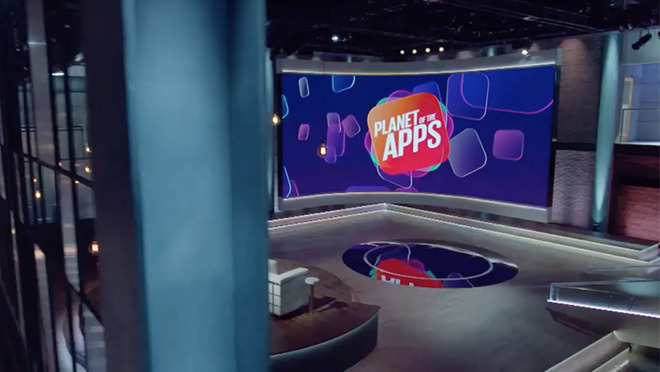 AppleInsider may earn an affiliate commission on purchases made through links on our site.
Apple's first foray into original TV content, "Planet of the Apps," starts Tuesday night, with the first of ten episodes being made available for global streaming on Apple Music and iTunes at 9 p.m. Pacific.
The hotly anticipated debut comes nearly four months after SVP of Internet and Software Services Eddy Cue revealed a trailer for the show, saying it would launch in spring 2017.
According to Reuters, the first "Planet of the Apps" episode can be viewed by anyone through iTunes or the show's website. A new episode will be released every Tuesday, with viewership restricted to Apple Music subscribers starting next week.
The series is reminiscent of popular reality shows like "Shark Tank," in which independent developers from around the world pitch their ideas, in this case apps, to a panel of high-profile "mentors." Jessica Alba, Will.i.am, Gwyneth Paltrow and Gary Vaynerchuck make up Apple's cast, while Apple Music DJ Zane Lowe makes an appearance as the show's emcee.
"The question when you have ideas is how to take those to fruition," Cue told Reuters. "Sometimes you may not know how, you might be afraid of what's involved. This really shows how that's possible."
On "Planet of the Apps," contestants 60 seconds to sell mentors in an "escalator pitch" that has them literally explaining their app idea as they ride down an escalator. Once at the bottom, panelists swipe left or right on an iPad to show their interest, or disinterest, in the developer. Mentors then work with selected contestants to refine their product in preparation of a pitch in front of Lightspeed Venture Partners, which is putting up more than $10 million to fund the winning app.
The first two episodes show developers peddling ideas for online shopping campus safety and school backpack apps, the report says. Since "Apps" is being streamed through Apple's music service, users are able to download apps featured in the show from the App Store.
"Apps" has been in production since late last year and is the first of two original programs created for distribution on the Apple Music platform. The second show, an adaptation of James Corden's hit "Carpool Karaoke" segment, missed an April launch date but is expected to debut later this year.
Apple screened a viewing of the pilot "Apps" episode at WWDC on Tuesday and will soon launch an advertising campaign on iTunes and the Apple.com home page.