GarageBand for Mac update adds Touch Bar support, more virtual drummers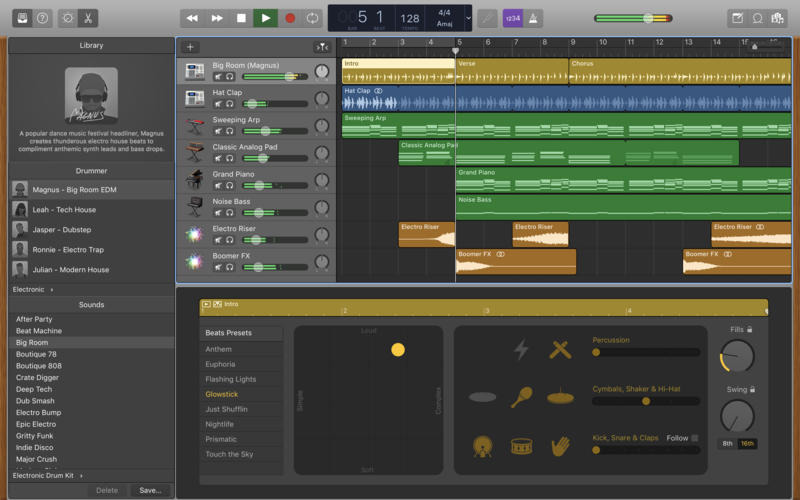 Apple on Monday released an update for GarageBand on Mac, adding Touch Bar support to the music creation software, with other additions including a design refresh to make the audio tool easier to use, three new drummers, and more drum loops to be added to a user's composition.
Version 10.2 of GarageBand for Mac makes the MacBook Pro Touch Bar more useful for song creation, allowing users to navigate through a project's timeline, and also play instruments, such as the drums or keyboard. The Touch Bar support arrives just under five months after the same feature was introduced to Logic Pro X in the 10.3 update.
Three more drummers have been added to the collection of virtual session musicians users can tap to add percussion to their tracks, with the new additions providing beats in the styles of Pop, Songwriter, and Latin. A new set of "Drummer" loops have also been added, which can be quickly incorporated into projects with further customization possible with performance controls.
A "new modern design" has also been introduced in the update, promising "improved ease of use," according to Apple's release notes.
Owners of iPhones and iPads will also benefit from increased cross-platform creation, with the ability to add new tracks to an existing Mac-based GarageBand session from iOS. The iOS app also received an update at the same time as GarageBand for Mac, but version 2.2.2 contains stability improvements and bug fixes, not any major changes.
The free update to version 10.2 of GarageBand is available to download from the Mac App Store.
In April, Apple altered the pricing for its iWork suite and remaining iLife apps, including GarageBand, making them free for all iOS and macOS users. Previously, the apps were only free as part of a hardware purchase, with the policy change removing this requirement.