Survey finds 1/3 of people interested in Apple's HomePod, still more likely to buy Amazon Echo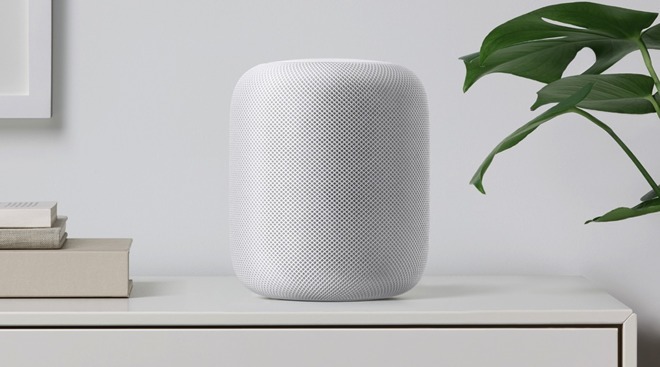 Roughly a third of people in the U.S. are interested in Apple's Siri-based HomePod, though they're more likely to buy an Amazon Echo in practice, survey results suggested on Wednesday.
Of 2,200 polled adults, 33 percent said they were interested in the HomePod, according to Morning Consult. That number dipped to 30 percent after people were shown a comparison with other smartspeakers, such as the Echo and Google Home.
Among people who already owned Apple products, pre-comparison interest was 45 percent, slipping to 40 percent afterward.
Within the overall survey group 17 percent said they were mostly like to buy an Echo, and 11 percent the cheaper Echo Dot. Only 9 percent said they would go for a HomePod, below the Google Home's 11 percent.
The HomePod did fare better among existing Apple owners at 17 percent, but still ranked below the Echo's 18 percent.
Price appears to be the main concern among shoppers, since 57 percent picked it as "very important" in a smartspeaker. The HomePod will cost $349 when it launches in December — by contrast, an Echo is currently $139.99, and an Echo Dot only $39.99, though the latter is meant to be hooked up to an external speaker.
51 percent of people said speaker quality was important, which may help Apple. The company has banked on that element in both marketing and design — the HomePod sports a woofer, seven tweeters, and technologies such as beamforming and automatic balancing with room acoustics.
A number of questions remain about the HomePod, such as how well it will work with third-party streaming services. So far it only appears to support Apple Music — which is missing from the Echo and Google Home, but the latter devices offer a choice of services such as Spotify, Pandora, and TuneIn.