Apple publishes WWDC17 video transcripts, reminds developers of 64-bit app requirements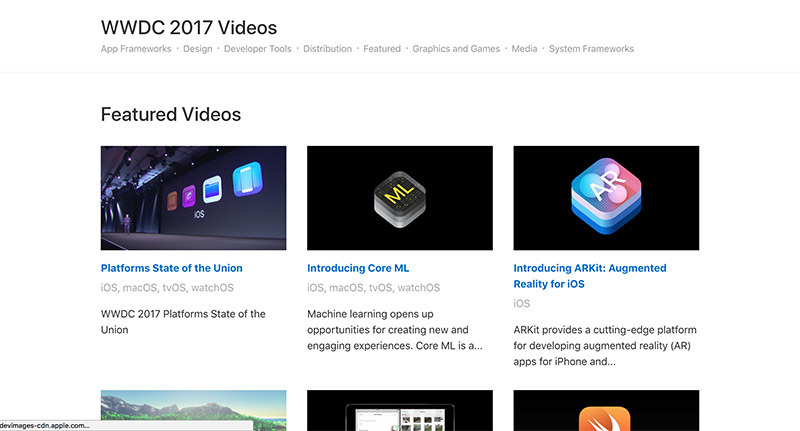 AppleInsider is supported by its audience and may earn commission as an Amazon Associate and affiliate partner on qualifying purchases. These affiliate partnerships do not influence our editorial content.
Apple on Wednesday released searchable transcripts for its catalog of Worldwide Developers Conference 2017 videos, while at the same time reminding developers of 64-bit app restrictions related to its next-generation operating systems.
Announced through Apple's developer portal, the company transcribed each of the more than 130 WWDC17 sessions recorded this year and indexed the results into a searchable database. The company has made session transcripts available since 2015.
Available for viewing on the WWDC 2017 Videos webpage, the transcribed videos are broken down into categories including app frameworks, graphics and games, design, distribution, developer tools, media and system frameworks. The page currently boasts an assortment of featured videos ranging from new iOS 11 capabilities like drag-and-drop multitasking and augmented reality to introductions on basic developer tools like Core ML.
As with past transcripts, viewers can search by keyword to see every instance a word or phrase is mentioned in a particular video. Results show up as hyperlinks which, when clicked, take viewers directly to that point in the session. In addition, Apple notes users can copy and paste search results for easy sharing.
In a pair of separate posts to its developer news website, Apple reminded developers of upcoming app restrictions related to iOS 11 and macOS 10.13 High Sierra. Specifically, iOS 11 will only support 64-bit apps, while macOS High Sierra marks the last Mac operating system to support 32-bit titles.
According to Apple, support for 32-bit apps is "not available in iOS 11." 32-bit apps already installed on user devices will simply fail to launch in the next-generation OS, the company says.
Apple began warning developers of the upcoming 64-bit limitation last year, a process initiated with 64-bit support requirements in June 2015.
As for macOS, Apple has mandated that all new apps submitted to the Mac App Store support 64-bit architectures starting in January 2018, while existing apps must begin incorporating 64-bit support starting in June 2018. The company recommends developers distributing apps outside the official App Store follow identical protocols, as High Sierra will be the last macOS release to support 32-bit apps "without compromise."