Apple email campaign encourages trade-in upgrades to iPhone 7 ahead of 'iPhone 8'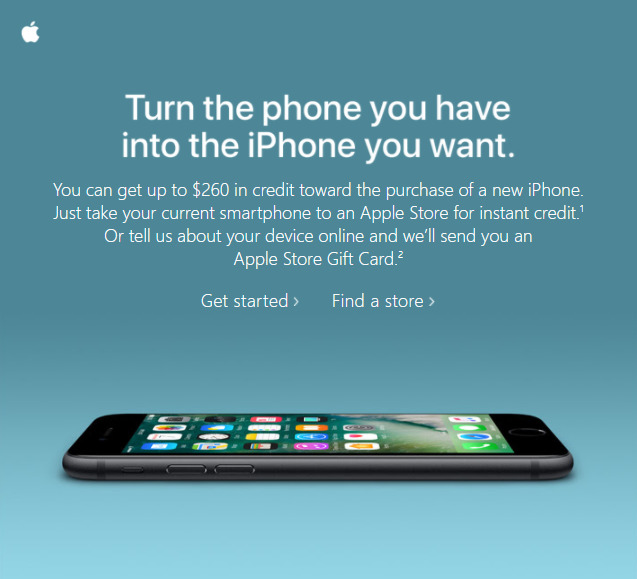 A new email marketing campaign from Apple is nudging owners of other smartphones — and older iPhones — to trade them in towards an iPhone 7, just months from when the "iPhone 7s," "7s Plus" and "8" are likely to be announced.
The email notes that people can get up to $260 in credit towards a new iPhone, either by taking their old device to an Apple store or through a slower mail-in process in exchange for a gift card. As usual, the exact amount is dependent on the phone model and its condition — the only iPhone capable of fetching $260 is a mint-condition 6s Plus.
Apple typically doesn't put its trade-in program front-and-center, but the company is presumably hoping to raise iPhone numbers in the middle of its dryest sales season. iPhone sales are naturally high after fall launches and through the holidays, but start to fade during the March quarter, then bottom out during the summer.
By that stage, people interested in buying a smartphone are often holding out for a new iPhone model, or choosing to go with an Android device — many Android phones are launched in the first half of the year.
The "iPhone 8" is generally expected to feature a 5.8-inch, edge-to-edge OLED display with an embedded Touch ID sensor, doing away with a physical home button. It should also have an "A11" processor, wireless charging, and 3D facial recognition.
The "7s" and "7s Plus" should have 4.7- and 5.5-inch LCD displays, but carry over some "8" upgrades, like wireless charging support.
All three devices will probably be announced at a September press event. The "iPhone 8" may not ship until October or later.