Apple's first Taiwan retail store opening draws overnight crowds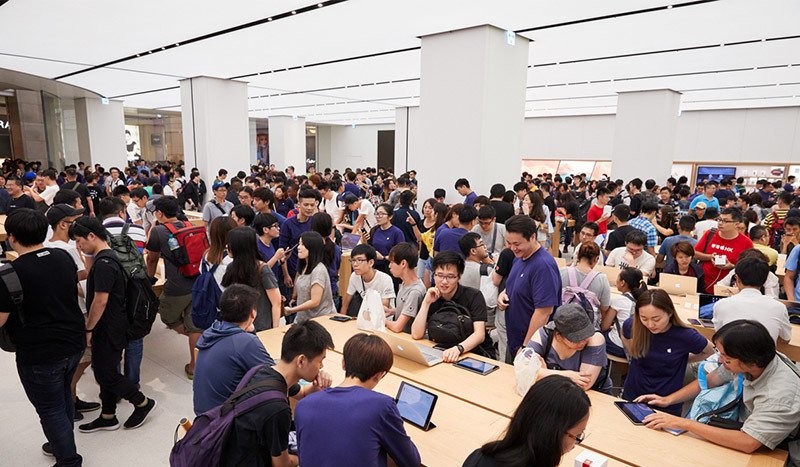 AppleInsider is supported by its audience and may earn commission as an Amazon Associate and affiliate partner on qualifying purchases. These affiliate partnerships do not influence our editorial content.
As scheduled, Apple on Saturday local Taiwan time opened the doors to Apple Taipei 101, the company's latest retail outlet and first location in Taiwan.
Much like the recent Orchard Road Apple store opening in Singapore, customers formed a queue outside of Taipei's tallest skyscraper overnight for a chance to experience the grand opening festivities. Apple published photos of the gathered crowd to its website shortly after the outlet opened for business on Saturday. The company said thousands of people were in attendance.
Like other recently opened Apple outlets, Apple Taipei 101 features the company's next-generation design philosophy. Images of the store's interior, shared by Apple earlier this week, revealed a high-flung lighted ceiling canopying a large salesroom floor outfitted with custom-built wooden display furniture.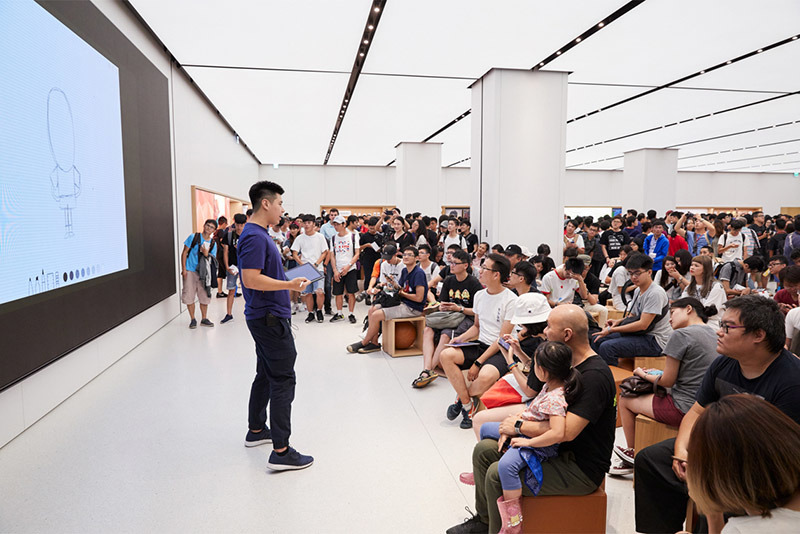 The new design language also accommodates a central gathering area with special wooden seats positioned in front of a gigantic television. Dubbed the Forum, the space serves as a meeting place for "Today at Apple" sessions covering a range of topics including art, video and photography, app coding, music production and more. Special events like performances by local musicians and artist demonstrations are also hosted at the Forum.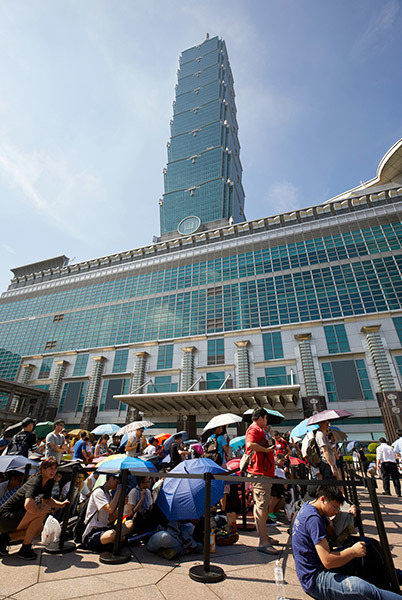 Apple often invites local artists to showcase their work — sometimes created using iPhone or iPad — at or prior to store openings. In Asia, and especially China, the company turns protective construction barriers into art installations. For Taipei 101, Apple invited local paper cutting artist Yang Shiyi to create a large mural that covered the store's glass windows. The piece depicted a forest full of woodland creatures, some of which with Apple products in hand, in a wistful scene meant to invite customers in to the store.
Apple initially confirmed plans for its Taiwan store last July, with subsequent reports noting the outlet boasts 14,300 square-feet of floor space dedicated to sales, the Forum, a Genius Bar, accessories "Avenue," and space for in-store workshops.
Following Saturday's grand opening, Apple Taipei 101 will hold normal operating hours from 11 a.m. to 9:30 p.m. on Sunday through Thursday, and from 11 a.m. to 10 p.m. on Friday and Saturday.