Supposed 'iPhone 8' back panel without Touch ID resurfaces in new leak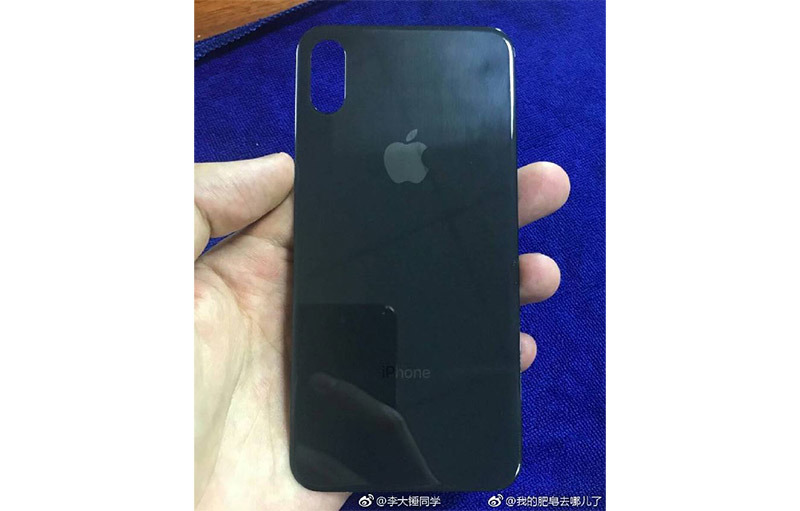 AppleInsider is supported by its audience and may earn commission as an Amazon Associate and affiliate partner on qualifying purchases. These affiliate partnerships do not influence our editorial content.
A photograph posted to Chinese microblogging service Weibo claims to show a production glass panel back bound for Apple's rumored "iPhone 8," with the alleged part lacking a cutout for a Touch ID fingerprint reader.
As seen above, the supposed next-generation iPhone rear cover making the rounds on Weibo on Tuesday is said to be manufactured from glass, a design that jibes with early rumors suggesting Apple will return to a "glass sandwich" aesthetic for "iPhone 8." The purported part also boasts a cutout for a vertically arranged dual-camera array, another feature rumored for inclusion with the next-generation handset.
Upon closer inspection, the component appears to be nearly identical to a rear cover leaked in June. That version was highly suspect as it included regulatory markings like the "Conformite Europeene" tag for communications devices (CE 0682), CE alert mark and battery disposal safety notice.
Apple in its pursuit for uniform industrial design did away with most regulatory markings on iPhone 7, instead opting to reproduce the required information in digital form in the "About" section of the Settings app. Current iPhone 7 and 7 Plus handsets contain two extremely small lines of text below the "iPhone" logo that read "Designed by Apple in California Assembled in China" and include model number, FCC identifier and IC code information.
While the part in today's photo does not contain regulatory markings — even the usual "Designed by Apple in California" seal — the positioning of both Apple and iPhone logos match up exactly with last month's dubious leak. It can be speculated that parts leakers are simply recycling a handful of mockups created from supposed "iPhone 8" schematics published earlier this year.
Apple is expected to announce three new iPhone models this fall. Along with incremental "iPhone 7s" updates, a so-called "iPhone 8," or "iPhone Pro," model with full-face OLED screen, wireless charging, forward facing 3D sensing camera and other advanced technologies is anticipated. Recent rumors suggest Apple's wireless charging solution might not be ready in time for launch, though the company is working to overcome technical hurdles before September.
Most recently, rumors claim "iPhone 8" will come in four colors including a new reflective version never before seen on an Apple handset.