AMD Radeon Vega 56, 64 officially announced, shedding more light on iMac Pro GPU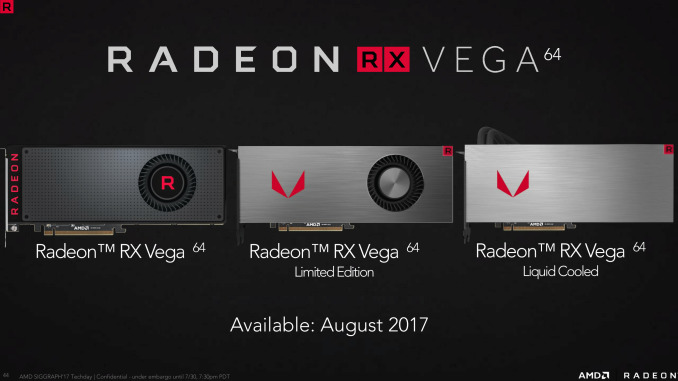 AMD has officially rolled out PCI-E versions of the Vega 56 and 64 GPUs that will be in the iMac Pro in December, with cards seeing retail in the middle of August.
AMD will ship a trio of cards based on the Vega architecture. The air-cooled Radeon RX Vega 56 and RX Vega 64, plus the water-cooled Radeon RX Vega 64 Liquid. All three cards feature 8GB of VRAM, differing in compute units, and clockspeed.
The RX Vega 56 has 56 compute units. with the GPU running at 1156MHz at base speed, and 1471MHz in boost. The HBM2 memory used allows for 410GB/sec of memory bandwidth. It will retail for $399.
The Radeon RX Vega 64 and Vega 64 Liquid have 64 compute units, and base clock speeds of 1247Mhz and 1406MHz respectively. The air-cooled version peaks at 1546Mhz, while the liquid-cooled versiokn hits 1677MHz. Both version have 484GB/sec of memory bandwidth.
The air-cooled Radeon RX Vega 64 will retail for $499, with the liquid cooled version coming in at $699.
As with the earlier demonstration, AMD has selectively picked testing titles for benchmarking, with the company saying that either version of the card will "trade blows" with the Nvidia GTX 1080.
The earlier testing postulated a "simulated workflow in a design firm," showing the Vega card outperform the Titan Xp by 50 percent in SolidWorks, and 28 percent in competing 3D rendering package Catia — all optimized for AMD cards.
In both iterations of the Vega GPU, half-precision 16-bit calculations (FP16) such as that used for some image and graphic processing, ray tracing, artificial intelligence, and game rendering can be optimized to hit a peak of 22 tflops, exceeding that in the GTX 1080. But, the advantages of FP16 for the consumer aren't quite clear, or easily comparable, to Nvidia cards as of yet.
The new Nvidia 1080ti card, often used in builds attempting to match the iMac Pro by enthusiasts, delivers less than a teraflop of FP16 performance.
It is not clear at this time if "classic" Mac Pro owners with PCI-E slots will be able to utilize the cards, or if they will be able to be used with external GPU solutions in High Sierra.
The iMac Pro made a brief appearance at the 2017 WWDC. It will feature a 5K display, Vega Graphics, up to 18-core Xeon processors, up to 4TB of SSD storage, and will start at $4999 when it ships in December.