HomePod firmware digging affirms 'iPhone 8' will have 5.15" display area with 2436x1125 resolution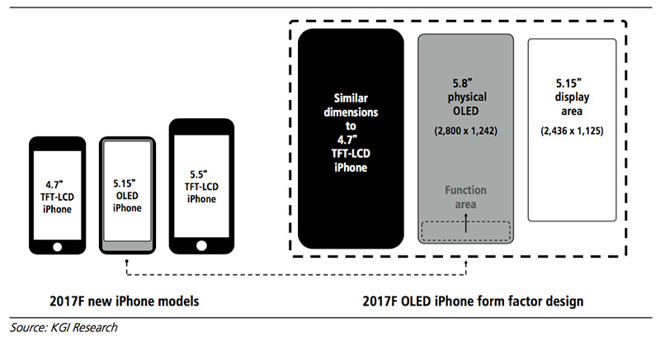 Apple's anticipated "iPhone 8" will pack more pixels than ever into a screen size slightly smaller than the iPhone 7 Plus, the latest details culled from Apple's own HomePod firmware reveal.
In the latest tidbit extracted from the software by developer Steven Troughton-Smith, it was discovered that the so-called "iPhone 8" will feature a three-times resolution screen at 2,436 by 1,125 pixels. That's a higher pixel count, and greater pixel density, than the 5.5-inch iPhone Plus series, which has a 1,920 by 1,080 resolution.
The resolution found in the firmware exactly matches the number reported in February by analyst Ming-Chi Kuo of KGI Securities. Specifically, he said the handset, which some have taken to calling an "iPhone Pro," will boast a 5.15-inch display area.
But Kuo also said that the physical edge-to-edge OLED screen will include a separate "function area," bringing the total screen size to 5.8 inches.
Troughton-Smith's findings would suggest that apps will utilize the 5.15-inch display area. It is unclear what the function area, which will occupy the bottom of the display where the home button used to reside, will display.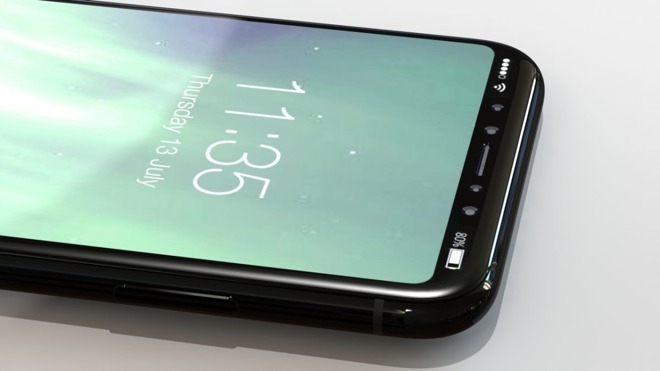 Image credit: Nodus and Gordon Kelly
It's expected that the flagship iPhone will sport a virtual home button, replacing the physical button that has been on every iPhone to date. Some have seen the virtual home button being a part of a Touch Bar for iPhone, bringing over one of the defining features of the new MacBook Pro.
At 5.8 inches combined, the "iPhone 8" function area and display area will offer a larger display than the iPhone 7 Plus. Whether or not developers will be able to extend their apps into the function area, though, remains to be seen.
Apple's own HomePod firmware has proven to be treasure trove of information about the upcoming premium iPhone, which is expected to be unveiled in September. Troughton-Smith also found references to a new biometric facial recognition feature for secure logins, potentially replacing Touch ID entirely.
The firmware also includes a rough sketch of the "iPhone 8" design, including a cut out at the top of the display for the earpiece and camera array.