White House calls on Apple, other tech giants to help restructure government IT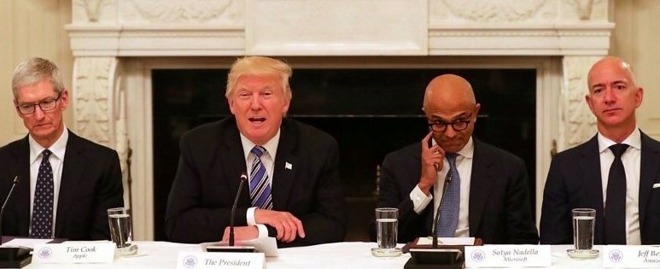 AppleInsider is supported by its audience and may earn commission as an Amazon Associate and affiliate partner on qualifying purchases. These affiliate partnerships do not influence our editorial content.
Continuing efforts to transform and modernize government IT systems, White House advisor Jared Kushner on Thursday laid out plans for the ambitious project in a conference call with representatives from tech giants Apple, Amazon, Oracle, Qualcomm and others.
Citing sources familiar with the conversation, Recode reports Kushner and other top officials called on Apple, Google, IBM, Intel, Mastercard, the Massachusetts Institute of Technology, Microsoft, Oracle and SAP to assist in streamlining both internal and external digital infrastructure and services.
To accomplish its goal, Kushner said the White House will form "centers of excellence," or small teams tasked with reducing regulation and pushing federal agencies to adopt cloud computing solutions, the report said. The initiative is also looking to boost transparency by making data more readily available to the private sector.
The "centers of excellence" might be staffed by engineers from tech companies, who would serve "tours of duty" in cooperation with Kushner's Office of American Innovation. Apple CEO Tim Cook declined an offer to join the advisory council, though the company is offering assistance to the White House on related efforts.
In addition to IT work, Trump aide Reed Cornish outlined plans to enhance public school computer science education, and said the administration is investigating ways to expand the president's executive order regarding apprenticeship programs, the report said.
Today's call fills in a few more details regarding industry outsourcing and other topics that were previously discussed in a series of White House meetings with top tech CEOs held in June.
At the June meetings, Cook reportedly brought up science, technology, engineering and math (STEM) education, suggesting computer programming be made a mandatory subject in U.S. schools.
Last month, reports indicated that Ivanka Trump, along with other White House officials, had initiated a campaign to query technology, business and education sector leaders for input on the best ways to fund STEM programs. The program is seeking the advice from a variety of sources including Cook and Laurene Powell Jobs, widow of Apple co-founder Steve Jobs.
Editor's note: Due to the political nature of this article, comments have been disabled. To comment on this article, register for our forums for access to the "Political Outsider" section.