White House looks to Apple's Cook, other tech CEOs to shape STEM education policy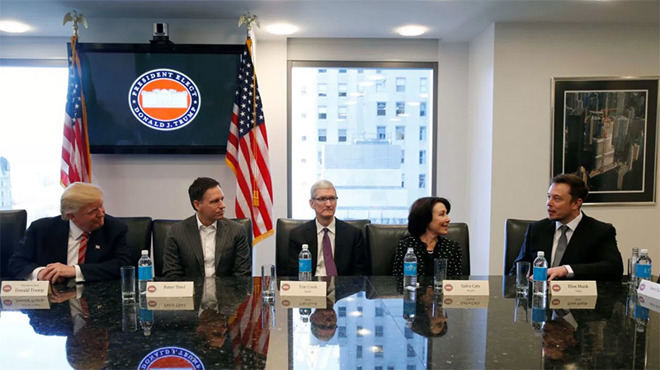 AppleInsider is supported by its audience and may earn commission as an Amazon Associate and affiliate partner on qualifying purchases. These affiliate partnerships do not influence our editorial content.
The Trump administration is looking to tech sector elites to help shape funding policy for science, technology, engineering and math public school education programs.
Officials in President Donald Trump's office, including his daughter Ivanka Trump, have initiated a campaign to query the country's best and brightest minds about potential STEM education solutions, Bloomberg reports.
Specific details are at this point unknown, but the White House group is looking to technology, business and education sector leaders for input on how best to fund STEM programs, the report said. Apple CEO Tim Cook and Laurene Powell Jobs, widow of company cofounder Steve Jobs, are said to be targets of the initiative.
According to sources, the president's daughter joined special assistant for technology initiatives Reed Cordish on a conference call on Wednesday to discuss the topic with politicians, educators and CEOs, the report said.
Among those in attendance on today's call were Lockheed Martin CEO Marillyn Hewson, Accenture North America CEO Julie Sweet, Microsoft President Brad Smith and Arkansas Gov. Asa Hutchinson. Representatives from the Chan Zuckerberg Initiative, Stanford, MIT and Broward County, Florida, Schools also participated.
Since taking his seat as president, Trump has on more than one occasion met with Cook to discuss tech industry matters. Cook is one of several high-power executives on the White House's American Technology Council, and while he was invited to serve on the council's parent organization, the Office of American Innovation, he declined the offer.
Cook has also met with both Ivanka Trump and her husband Jared Kushner, who heads up the Office of American Innovation alongside Cornish, Chris Liddell and Matt Lira.
Editor's note: Due to the political nature of this article, comments have been disabled. To comment on this article, register for our forums for access to the "Political Outsider" section.