Review: Belkin Thunderbolt 3 Express Dock HD solid choice, but little sets it apart from alternatives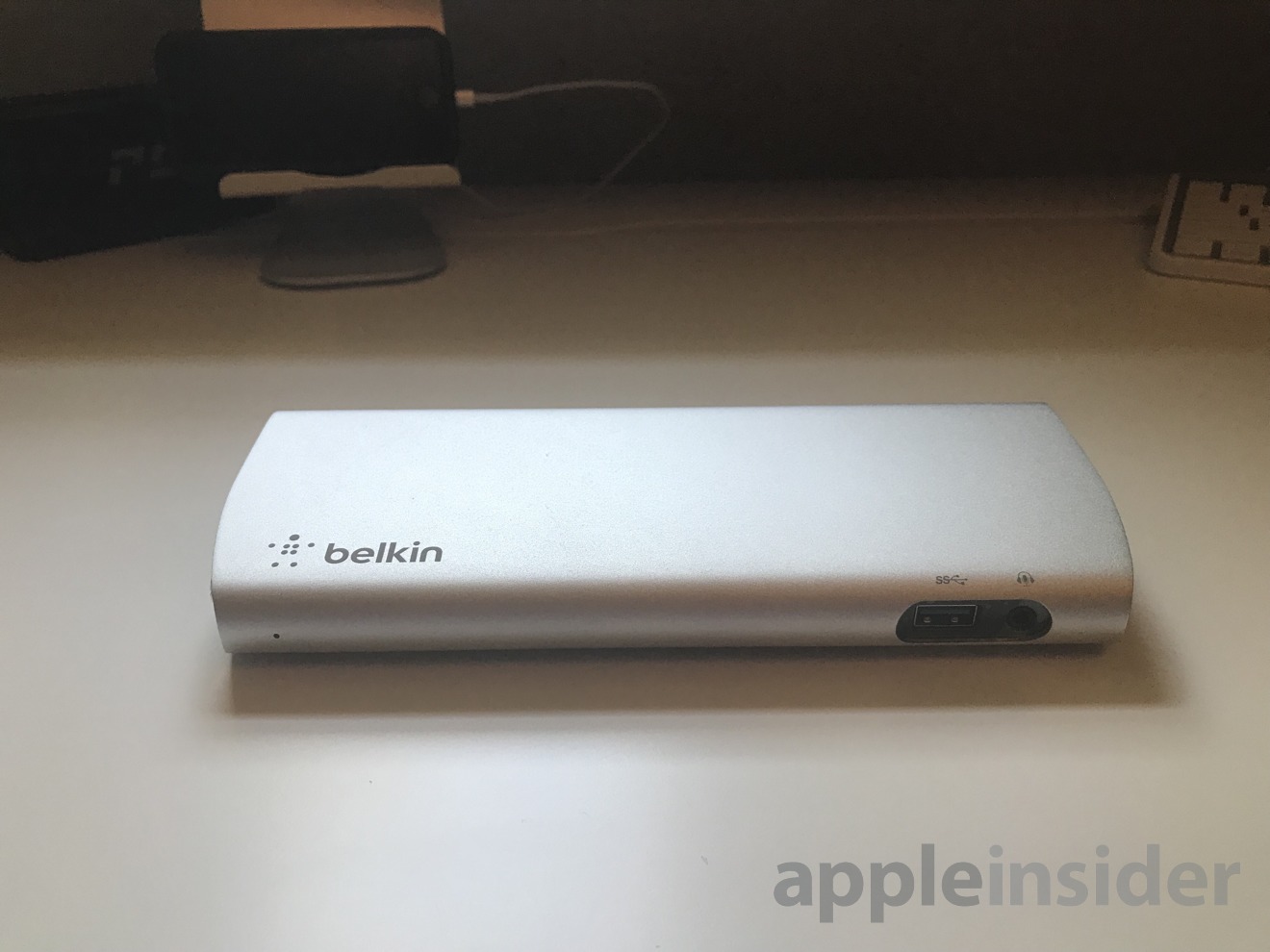 Belkin has refreshed its line of Thunderbolt docks for the MacBook Pro's Thunderbolt 3, but besides full charging power for the 15-inch MacBook Pro, the new version doesn't do enough to distinguish it from competitors.
For the Thunderbolt 3 refresh, Belkin continues to use the same form-factor as it has for its Thunderbolt and Thunderbolt 2 offerings in previous years. But, the power supply is much larger than the Thunderbolt 2 version, massive like all of the other docks we've looked at — and it gets hot!
Belkin provides three USB 3.0 type A ports with 1.5A of charging each, one combination audio in and out port, a dedicated audio out port, and a Gigabit Ethernet port — and that's it.
Unlike competitors, there's no USB-C besides the two Thunderbolt 3 ports, no eSATA, no FireWire 800, or anything else to make it stand out and grab attention. In an increasingly crowded Thunderbolt dock market, which will only get more populous when Intel loosens up the licensing for the technology in 2018, this might be a problem.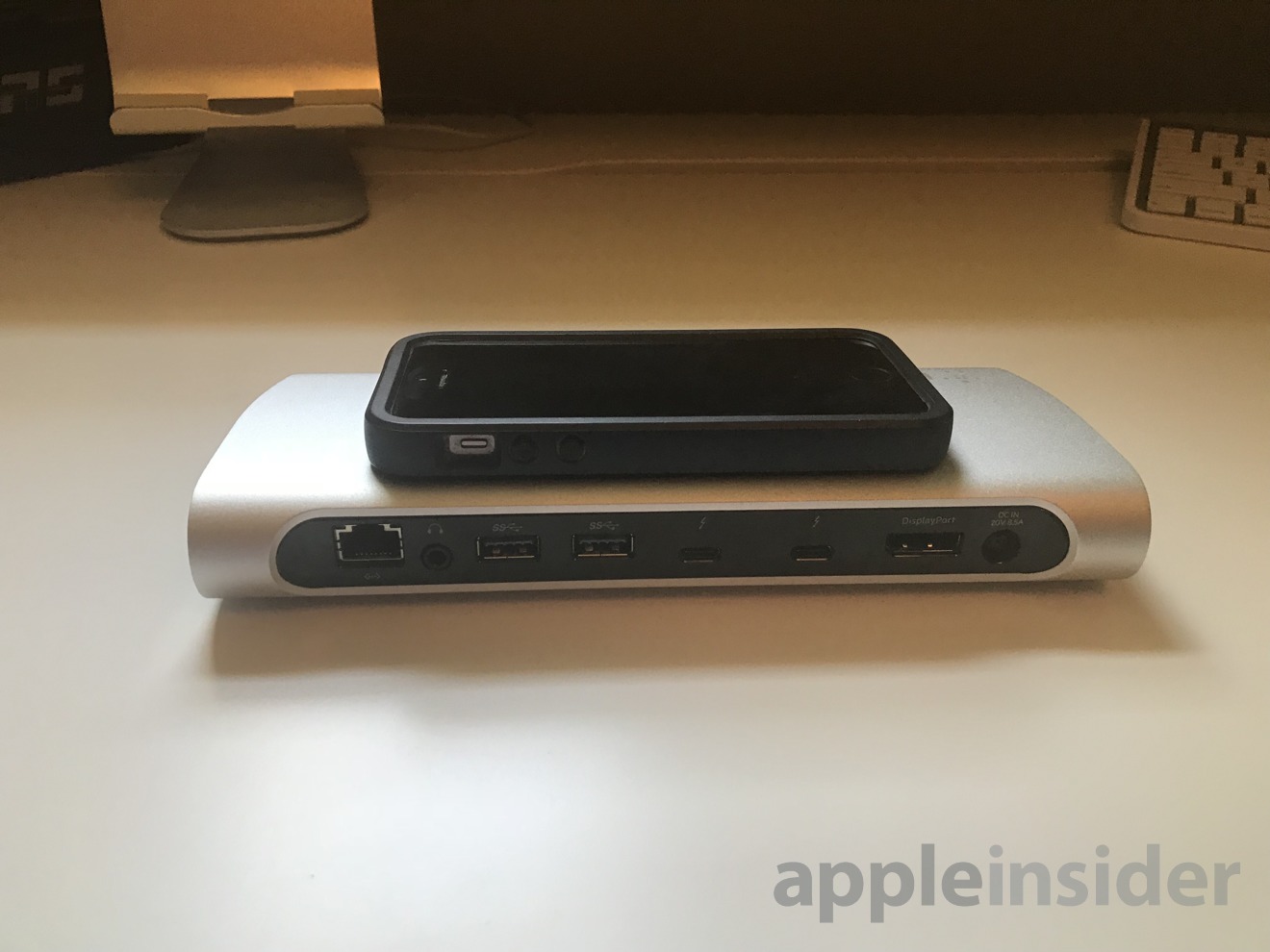 As with all of the Thunderbolt 3 docks we've tried, the Belkin unit has dual-4K support, with the DisplayPort and the Thunderbolt 3 pass-through port utilized for displays.
The best part about the dock is that it provides full charging power to a 15-inch MacBook Pro at 85W. Not all of them do, and the inclusion is a nice bonus assuming you need it. There's no need for it if you're using the 13-inch MacBook Pro, or a 15-inch MacBook Pro in clamshell mode.
As a bonus, the Belkin Thunderbolt 3 Express Dock HD has a usable cable — a full meter. The Thunderbolt 3 docks are the first ones since Thunderbolt launched to just about universally include a cable but there's a big difference between a useful length, and a useless one. For the first time, the included cable is usable, and doesn't demand an additional purchase for a functional length.
Plugging it in
The dock needs no drivers, and works perfectly from a basic functionality standpoint both in macOS and in a Bootcamp installation of Windows 10. Mass storage devices, input devices, and output devices all work perfectly, just like they were natively plugged into the host computer.
We had no issues with basic connectivity at all with peripherals like printers and scanners. Ethernet was solid, and we had no drop-outs on input peripherals. Audio through the headphone jacks was crisp and clear.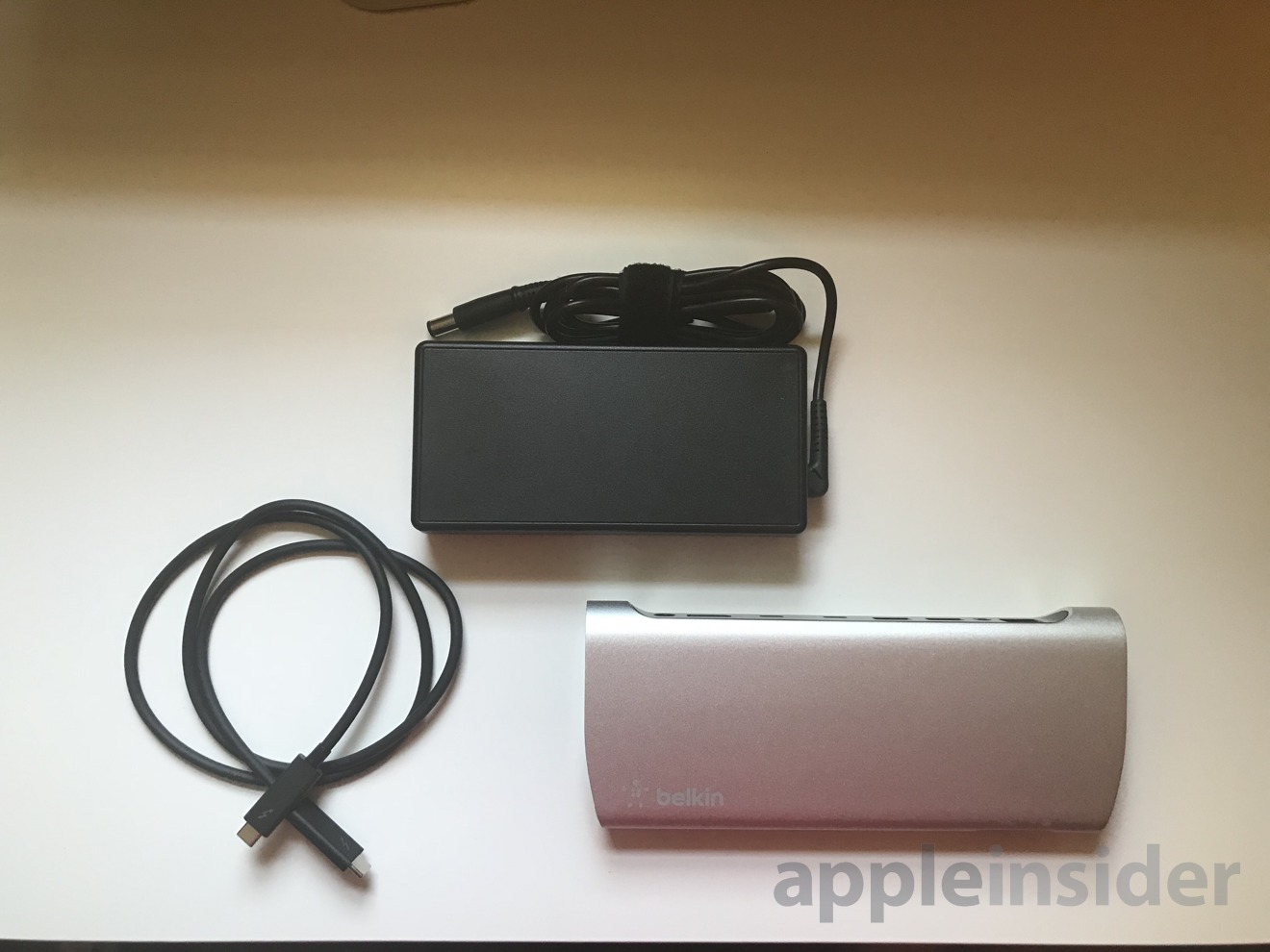 Initially, we had extremely slow file transfers through the dock. Where all the other docks were handily moving data at near USB 3 saturation speeds out of the box, we were getting around 100MB/sec from the Belkin dock in macOS Sierra 10.12.4 and 10.12.5 — but 400MB/sec and faster in all of the High Sierra developer betas.
Then, macOS 10.12.6 shipped, and right after installation the connection speed issue was rectified in Sierra. Presumably, the moral of the story here is to keep your software up to date.
4K and 5K
Shooting for the top, we found that even with a hard drive, a keyboard, a mouse, and an Ethernet cable actively feeding data to the MacBook Pro connected to the LG Ultrafine 5K display, we didn't have any problems at all with refresh or connectivity issues. That is, until we connected more peripherals to the monitor itself.
After we hooked up a keyboard to the LG Ultrafine 5K, we'd start getting very brief pauses in the monitor refresh. We knew what to look for this time as we had seen it before, so we spotted them instantly.
As with the CalDigit TS3 Lite docking station when we first spotted the issue, disconnecting every device from the dock didn't fix the problem, but unplugging the input devices from the monitor cleared it up immediately.
To test dual 4K support, we used an Acer CB281HK and an Acer B286HK 4K display, both capable of 4K resolution at 60HZ through DisplayPort. We connected one natively to the DisplayPort connector on the dock, and one with a $30 Plugable USB-C to DisplayPort cable to our 2016 15-inch MacBook Pro.
Both displays fired right up, running at 4K resolution at a 60Hz refresh rate. Reproducing the previous test with the LG 5K display, we found no pauses or drop-outs at all with the dual 4K setup even when torturing a USB 3.0 SSD and Gigabit Ethernet connection connected to the dock.
Thunderbolt 2
We plugged in Apple's Thunderbolt 2 to Thunderbolt 3 adapter into the device, and tried to use it with a 2015 15-inch Thunderbolt 2-equipped Retina MacBook Pro. While the DisplayPort on the dock didn't display 4K, it did work fine at 1440P.
All the other ports worked fine, and as they did with the Thunderbolt 3 2016 MacBook Pro.
Also, the down-stream Thunderbolt 3 port didn't work — until we plugged a second Thunderbolt 3 to Thunderbolt 2 adapter into it. Then, it daisy-chained drives and everything else we tried downstream with no issues.
Belkin Thunderbolt 3 Express Dock HD— or a different choice
There are definitely more Thunderbolt 3 options than there were ever Thunderbolt 1 or 2 docks. Belkin is late to the Thunderbolt 3 party, but brings a solid offering to make up for it.
No question, the Belkin Thunderbolt 3 Express Dock HD is as promised. It gives users back so-called "legacy" ports, and brings something that most don't — full charging power to the 15-inch Thunderbolt 3 MacBook Pro.
For 15-inch MacBook Pro owners that need the full charging power, the Belkin Thunderbolt 3 Express Dock HD is a good, albeit functionally beige, choice from a vendor with a well-established Mac history. For that use case, AppleInsider gives the dock a 4 out of 5.
Score: 4 out of 5

But, if you have a 13-inch 2016 MacBook Pro or newer, or plan on using your 15-inch MacBook Pro in clamshell mode with an external display, there is literally no reason to buy the Belkin dock versus a competitor's beyond brand loyalty, or the included slightly longer Thunderbolt 3 cable.
For the smaller MacBook Pro, or clamshell-mode aficionados, the the Belkin Thunderbolt 3 Express Dock HD rates a 2.5 out of 5. Still good, but there are better options for your money.
Score: 2.5 out of 5

The Belkin Thunderbolt 3 Express Dock HD retails for $349, and is available from Amazon, at Apple's online store and some retail stores, and from Belkin directly.