Functional Apple I computer to hit online auction block in September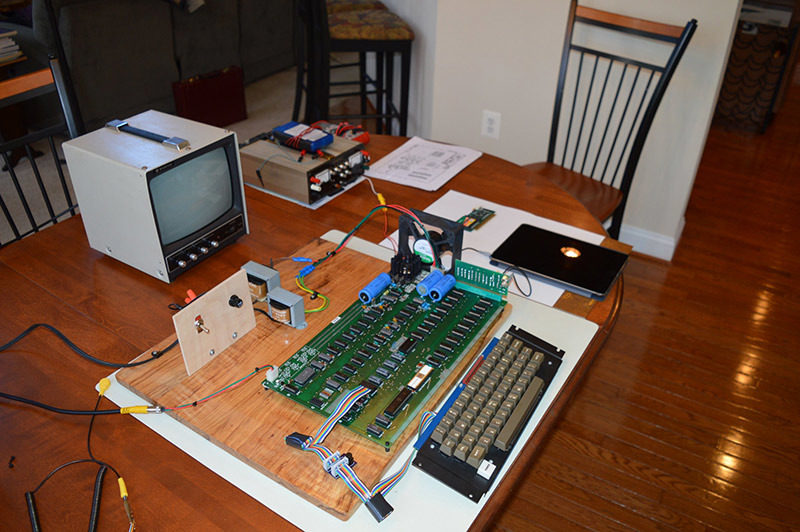 A fully operational Apple I computer built by Apple co-founder Steve Wozniak in 1976 is going up for auction through Charitybuzz next month, with all proceeds earmarked for charity.
Known as the Schoolsky Apple I, the computer is being put up for sale by former Virginia Tech professor David Larson, who bought the computer from Adam Schoolsky in 1994 for $3500. Schoolsky received the hardware from Wozniak, whom he was friends with alongside late Apple co-founder Steve Jobs.
According to Business Insider, the Apple I will hit the auction block on Sept. 12. All proceeds raised will go to the Foundation for Amateur International Radio Service, Ltd. (FAIRS), a Virginia non-profit that provides emergency radio equipment, education and other services to individuals, communities and governments in developing nations.
The listing has yet to be made public on the Charitybuzz website.
Along with the Apple I, the lot includes an Apple I cassette interface card and multiple documents speaking to the hardware's authenticity. For example, a letter Larson received from Schoolsky in 1994 is part of the auction.
Other miscellaneous items include Apple I and Apple II brochures, the first issue of early computer publication the Silicon Gulch Gazette and a copy of a flyer from the Zaltair hoax. In 1977, Wozniak and Schoolsky printed out thousands of fake ads for a nonexistent computer called the Zaltair — a take on the MITS Altair — and handed them out at that year's West Coast Computer Faire.
As with other Apple I units, the computer up for auction does not include a case, display, power supply or keyboard.
Charitybuzz has in the past put Apple I computers up for auction. Last year, the website sold what is believed to be the only prototype board ever offered in an auction. Dubbed the "Celebration" Apple I, the computer came complete with documentation, a period-correct power supply and cassette interface card with early Apple Basic cassettes. That auction brought in for $815,000, falling short of Charitybuzz's $1 million valuation.