Report highlights 3D facial recognition, camera tech as Apple's original efforts in 'iPhone 8'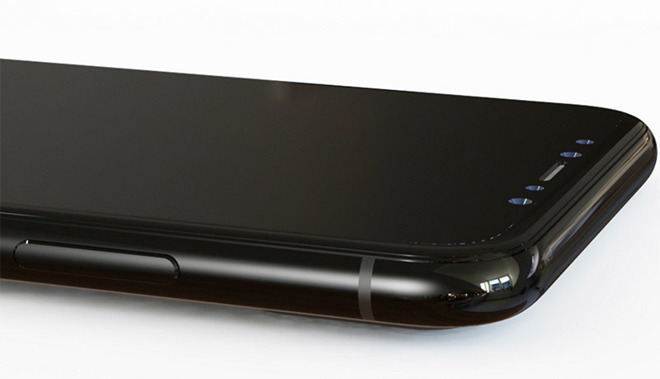 While there are many anticipated features for this fall's "iPhone 8," only a handful of them will actually be novel within the smartphone world, a report pointed out on Tuesday.
The centerpiece is a 3D facial recognition system, which should replace Touch ID for both Apple Pay and unlocking the phone, Bloomberg wrote. An infrared sensor should allow recognition even in the dark.
Other innovations are said to include vertically-mounted rear cameras configured for augmented reality, and "SmartCam" technology, able to identify objects and scenes on the fly, presumably for better photography.
Other devices — like the Samsung Galaxy S8 and Essential Phone — are already using edge-to-edge displays with virtual home buttons, and both OLED screens and inductive wireless charging have appeared on phones dating as far back as 2009. "Tap to wake" has been in Android products for years.
Bloomberg suggested that Apple's work at perfecting features will be the "iPhone 8's" distinguishing factor. Instead of just a home button and other basic controls, for instance, the phone may have a more advanced virtual control area.
Apple may not enter mass production until mid-September, which could leave very few units available that month, assuming the phone doesn't launch in October or November instead of Apple's usual timeframe. In the meantime the company is expected to ship the "iPhone 7s" and "7s Plus," which should use 4.7- and 5.5-inch LCDs like their predecessors, but with some "8" upgrades like wireless charging.