Apple TV losing market share to streaming set-top box rivals Roku, Amazon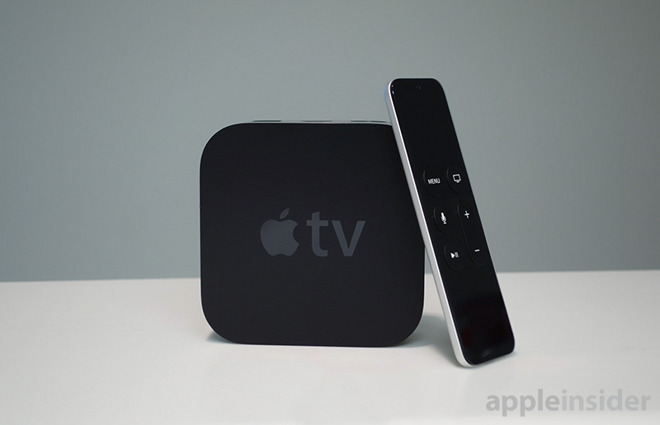 Competitors to the Apple TV are continuing to outpace Apple's streaming set-top box, a consumer research report claims, with the proportion of U.S. households owning and using an Apple TV shrinking while Roku increases its strong lead.
Published on Tuesday, the study by Parks Associates found ownership of the Apple TV in the first quarter of 2017 made up 15 percent of the market, down from the 19 percent market share recorded by analysts in the same period in 2016. By contrast, Roku saw a year-on-year increase in its lead over its rivals, growing from 33 percent in last year's survey to a dominant 37 percent this year.
Amazon, with its Fire TV range, also increased its market share during the same timeframe, growing from 16 percent of households to 24 percent. The Google Chromecast saw a reduction in its install base share, moving down to 18 percent from 21 percent.
Parks Associates told AppleInsider that the study surveyed 10,000 US broadband households in both periods, with the results stemming from households that owned at least one streaming media player. In 2016, 36 percent of those surveyed owned at least one streaming player, reducing slightly to 33 percent in 2017.
A similar study by eMarketer in July also reports Roku as having a considerable lead over its rivals, with 38.9 million Americans claimed to be using a Roku-equipped device at least once a month, compared to 21.3 million recorded for the Apple TV.
"Roku emerged early as a U.S. market leader for streaming media players, and the company has held firmly to that position," said Parks Associates Senior Analyst Glenn Hower. "Higher-priced devices, such as the Apple TV, have not been able to keep up with the low-priced and readily-available Roku devices, which can be found at Walmart for as low as $29.99."
By contrast, the fourth generation Apple TV starts from $149, five times the cost of some Roku devices.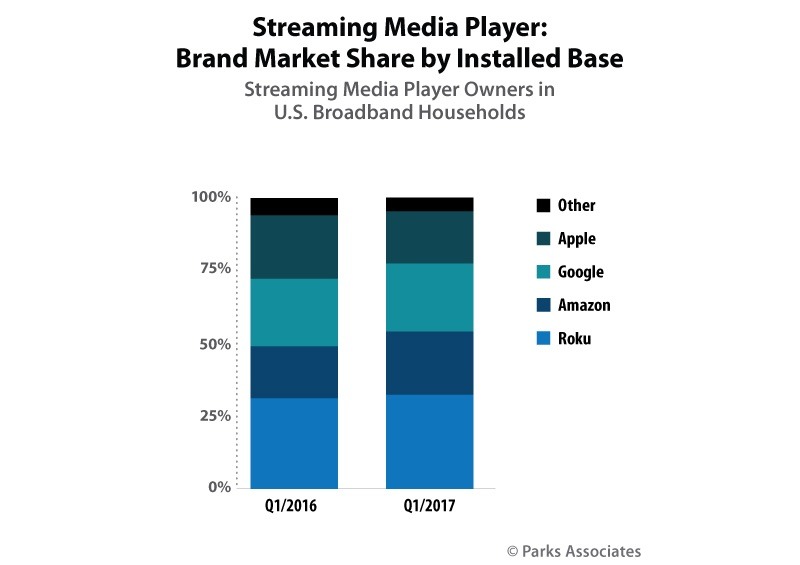 It is estimated by Hower that a third of U.S. households with broadband own a streaming media player. "The growth of the U.S. OTT (Over The Top) market provided consumers with unprecedented ease of access to video content. These streaming media devices make for quick and easy access to the top OTT libraries."
Parks Associates' report, "Reinventing CE: Transforming Devices to Service Platforms," also found 45 percent of U.S. households with broadband own a smart TV, 49 percent owned a game console, 35 percent had a Blu-ray player, and 32 percent owned a DVR.
While Apple lags behind its rivals in the results of the study, it is possible that Apple is taking steps to make the Apple TV more attractive to content consumers. The rumors of a 4K upgrade, as well as the addition of 4K-resolution content to the iTunes Store, may make the Apple set-top box more attractive to 4K TV owners eager to consume the higher-resolution content.