Samsung chief Jay Y. Lee given five year sentence for role in South Korean corruption scandal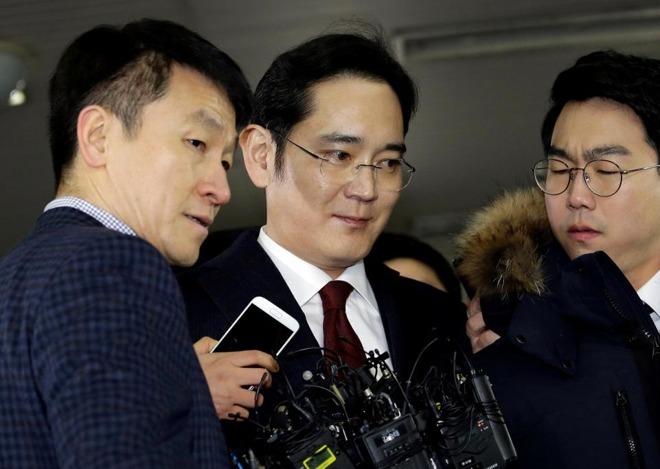 Jay Y. Lee, the head of the Samsung Group, has been sentenced to 5 years in jail by a South Korean court after a six-month trial, convicted for bribery and other charges relating to a national scandal that saw the downfall of former Korean President Park Geun-hye.
The court ruled on Friday that Lee had paid bribes in order to receive favors from the President at the time, Reuters reports, with Lee claimed to have directed $26 million to organizations linked to Choi-Soon-sil, a close friend of President Park Geun-hye. The favors were said to include support from the National Pension Services for a merger between Cheil Industries and Samsung C&T in 2015, a move that would have provided Lee with more power within the Samsung organization.
Lee was also found guilty of embezzlement, perjury, and of hiding assets abroad.
"This case is a matter of Lee Jay-yong and Samsung Group Executives, who had been steadily preparing for Lee's succession... bribing the president." said Seoul Central District Court Judge Kim Jin-dong. As the heir apparent to the group, Lee "stood to benefit the most" from any political favors that aided the Samsung group.
The jail term is going to cause some disruption for the Samsung Group, as Lee was the stand-in leader for the company after his father suffered a heart attack in 2014. The sentence will make it difficult for Lee to return to the conglomerate - a "chaebol" - which has been under his family's control since its founding, with it almost certainly looking to find a new leader amongst its ranks.
Lee has denied any wrongdoing, with lawyer Song Wu-cheol insisting "The entire guilty verdict is unacceptable," and that Lee would appeal. If it is appealed up to the country's Supreme Court, a hearing could take place next year.
Even so, it is still possible that Lee will get away without a lengthy prison sentence, due to the influence of the company and similar other chaebols in the region. Bloomberg reports his father, Lee Kun-hee, received a suspended three-year prison sentence for tax evasion in 2008, and was later pardoned by then-President Lee Myung-bak.
On the same day, a number of other former executives received convictions for their roles in the scandal. Former corporate strategy office chief Choi Gee-sung and former president Chang Choong-ki received sentences of four years in prison, with suspended prison terms given to two other executives.
President Park Geun-hye was impeached in December 2016 and removed from office in March over the allegations, and will be facing charges of abuse of power, coercion and bribery. Park denied the corruption charges in May, with the trial expected to last at least six months.