Apple not only company fighting Google over video, as YouTube is cut from Amazon Echo Show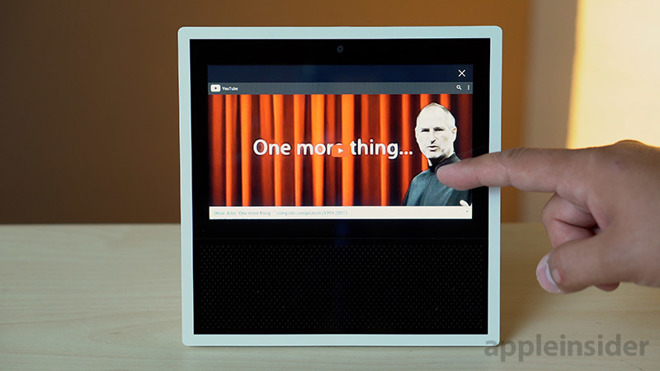 On Tuesday afternoon, Google withdrew YouTube service from the Echo Show personal video device, and the two companies have issued dueling statements about the matter.
At approximately 3 p.m. eastern time on Tuesday, users looking to find YouTube videos on the Echo Show were presented with a message telling them Google was no longer supporting YouTube on the device. The Verge first noted the service unavailability on Tuesday evening.
"YouTube used to be available to our shared customers on Echo Show. As of this afternoon, Google has chosen to no longer make YouTube available on Echo Show, without explanation and without notification to customers," Amazon told The Verge in a statement. "There is no technical reason for that decision, which is disappointing and hurts both of our customers."
Google appears to have a difference of opinion on why the withdrawal of the ubiquitous YouTube was executed.
"We've been in negotiations with Amazon for a long time, working towards an agreement that provides great experiences for customers on both platforms," wrote Google in a statement. "Amazon's implementation of YouTube on the Echo Show violates our terms of service, creating a broken user experience. We hope to be able to reach an agreement and resolve these issues soon."
The debate between the pair may have roots dating back to 2015. In the same action that saw the Apple TV removed from Amazon, the e-commerce giant still refuses to sell the Google Chromecast, citing "consumer confusion." A listing for the Apple TV 4K appeared on Tuesday, but was swiftly deleted.
Apple and Google are still at loggerheads about 4K content on YouTube. Google warned that a shift to its own VP9 video codec was coming in early 2016, and it finally executed the shift from December 2016 to January 2017.
As a result, Safari users are unable to view embedded 4K content, and the Apple TV 4K is limited to 1440p resolution at best from the service.
"We haven't supported VP9 in Safari," AppleInsider was told by a source within Apple corporate not authorized to speak on behalf of the company when Google shifted to VP9. "[Google] has seemingly made a conscious decision to not stream H.264 4K video to Apple users from the YouTube homepage, when it clearly could if it chose to."
A timetable for YouTube's return to the Echo Show is unknown. Regarding Apple, there appears to be no initiative from either Google or Apple to support the VP9 codec in Safari, or on the Apple TV 4K.
AppleInsider found the Echo Show "good enough" as a personal video viewer — but the current absence of YouTube impacts the functionality of the device profoundly.