First look: New Radio app for Apple Watch featuring Beats 1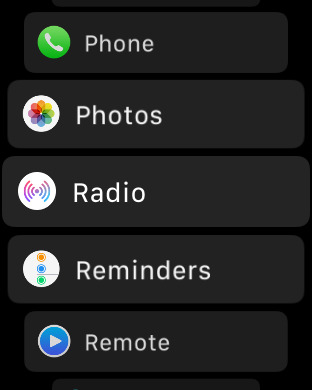 Wednesday's developer preview of watchOS 4.1 provided the first look at a new dedicated Radio app for Apple Watch, allowing users to stream Beats 1, Apple Music stations, and news channels directly to their wrist, without the need for an iPhone.
The Radio app in watchOS 4.1 is separate from the Music app, unlike on an iPhone or iPad. Streaming Beats 1 and news stations is free for all, but the music channels require a paid subscription to Apple Music.
Upon opening the new app, users are presented with a number of stations in a Cover Flow-like display that scrolls vertically by using the Digital Crown. this is similar to how synced playlists and albums display in the Music app.
At the top of the menu, users can select either a Beats 1 live stream, or a comprehensive list of stations.
Selecting Beats 1 asks a user where they wish to play the audio, and then starts playback. As within the Music app, the Digital Crown is turned to control the volume.
Because Beats 1 is live, the forward and back buttons are greyed out, but stop remains. On music stations that are intelligently generated, users can skip tracks.
The Radio app also integrates with the Now Playing app on Apple Watch, meaning users can quickly access playback controls when raising their wrist or if they have Now Playing pinned to the app dock.
As of the first beta of watchOS 4.1, the Radio app does not support streaming over LTE with the Apple Watch Series 3, though that is expected to be addressed by the time the update is finalized and launched to the public.
In addition to the Radio app, watchOS 4.1 also improves the Music app by displaying all content in a user's iCloud Music Library, including tracks downloaded or recently accessed via Apple Music, songs purchased on the iTunes Store, and songs matched with iTunes Match.
Accordingly, after watchOS 4.1 is installed, scrolling up to select the "Library" button lets users browse their full catalogue by playlists, artists, albums, and songs. Because the Music app now supports LTE streaming, the tracks do not need to be synced and stored on the watch itself.
As of the first beta, there is no fast scrolling support in the Music app — that is to say, when the Digital Crown is turned quickly, the ability to scroll more quickly by letters of the alphabet is not presented. For users with a large music library, that means artists towards the end of the alphabet may take a considerable amount of scrolling to reach.
Of course, such issues are likely to be addressed before watchOS 4.1 is finalized and released to the public. Apple has signaled that the update is likely to be launched in October.