GoPro turns to HEVC compression for Hero 6 Black, same codec used by Apple in iOS 11 and macOS High Sierra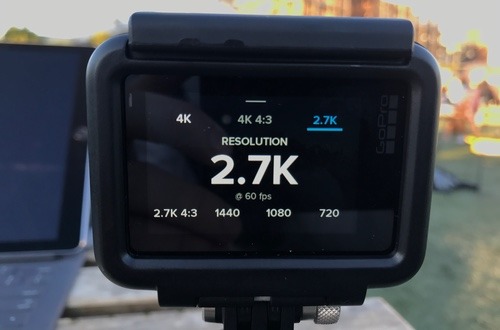 AppleInsider may earn an affiliate commission on purchases made through links on our site.
Briefly mentioned during Thursday's GoPro launch event, the new Hero 6 Black with GP1 chip compresses ultra high-resolution video into manageable chunks of data using High Efficiency Video Coding, the same standard adopted by Apple in its latest operating systems.
According to GoPro, the company's decision to build in support for HEVC, also known as H.265, came well before Apple announced it, too, was throwing weight behind the next-generation standard.
Announced at this year's Worldwide Developers Conference in June, Apple initially promised HEVC support for macOS High Sierra, including hardware acceleration on select Mac models including the late-2015 27-inch iMac, early-2016 MacBook and MacBook Pro models manufactured in 2016 and beyond. The company later confirmed iOS 11 would bring the codec to compatible mobile devices.
For GoPro, the decision to incorporate H.265 support is in response to new high bitrate shooting modes added to 6 Black's arsenal. Video shot in 4K at 60fps or 2.7K at 120fps, for example, generate unamanageable files in H.264, so the firm sought a more efficient alternative.
In our early testing, we found HEVC to be incredibly effective. A 12-second clip shot in 4K at 60fps with a "wide" aspect ratio came in at 99 MB, while a clip of equal length shot in 2.7K at 60fps — a carryover resolution from Hero 5 Black, encoded in H.264 — weighed in at 96MB.
Looking at the nuts and bolts behind GoPro's HEVC implementation, the 6 Black and accompanying GoPro app default to the device's base video encoding scheme when transferring files over to a smartphone. For iPhone users, that means large HEVC files are supported natively — no transcoding is involved.
Native support equates to decreased file sizes — up to 40 percent smaller than H.264 — smooth playback and higher quality images. Also important for action cam enthusiasts is enhanced motion compensation for fast-moving scenes, a feature that comes in handy when recording at 6 Black's maximum 4K resolution at 60fps.
GoPro representatives we spoke with said iPhone 8 (and likely iPhone X, though that handset has yet to see release) is the pinnacle of HEVC viewing thanks to Apple's A11 Bionic system-on-chip. Like contemporary desktop silicon, such as sixth-generation Intel Core processors powering recent Macs, the A11 Bionic integrates hardware acceleration for H.265 encoding and decoding operations.
The A10 Fusion chip in iPhone 7 also integrates a flavor of HEVC hardware acceleration, while A9 SoCs and below rely on software to get the job done. That doesn't mean an iPhone 6s will struggle with HEVC video pulled from a Hero 6 Black, but content might take longer to process and render.
Looking ahead, GoPro is likely to expand HEVC integration in future products, especially now that major industry entities like Apple are throwing weight behind the codec.
Interestingly, GoPro's upcoming Fusion, a dual-lens device capable of 5.2K spherical video capture, does not rely on HEVC to compress its expectedly large files. Instead, that device uses the current H.264 standard, just like the Hero 5 Black and Hero 5 Session. A probable explanation is that Fusion does not GP1, suggesting
With its in-house designed GP1 chip, introduced alongside Hero 6 Black, GoPro has a distinct advantage over other action camera makers seeking to include dedicated hardware acceleration for the codec in their respective products.