Watch: Apple's iPhone 8 Plus and iPhone 7 Plus cameras compared
By AppleInsider Staff
Monday, October 09, 2017, 07:38 pm PT (10:38 pm ET)
Though the cameras in Apple's latest iPhones boast the same megapixel count as last year's models, the new devices sport greatly improved internal components, from "deeper" pixels to an upgraded image signal processor. See how the new hardware compares to its predecessor in this video.




Check out a few stills from our comparison:



For reviews, news, tips, features and more, subscribe to AppleInsider on YouTube.
Unbeatable Deals from AppleInsider & Apple's Top Authorized Resellers
Today's Headlines
No news headlines yet today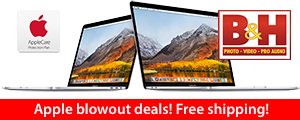 Lowest Prices Anywhere!